From time to time, ISEA will share Great Lakes' experiences from guest bloggers. In this blog, ISEA intern Chihiro Gniadecki shares their interview with Oleson Foundation Executive Director Kathryn Wise Huschke. Email marketing@schoolship.org if you would like to submit a Great Lakes experience to be featured.
---
Who is the Oleson Foundation
The Oleson Foundation was founded in 1962 by Gerald and Frances Oleson. Their main mission was to help people help themselves. They value the integrity of education for our youth, the protection of natural resources, and advocating for all people within the community, all of which align with ISEA's mission.
The Oleson Foundation's current Board is dedicated to uphold the original Foundation's mission and values, and has made many contributions to further their goals. Some of their goals are to protect the natural environment in conservation efforts and to educate the youth and general public. The Oleson Foundation's contributions have bolstered communities by providing services to people in need to ensure they have high quality medical care and recreational opportunities. Their main contributions regarding Inland Seas are that they contribute to the protection and stewardship of natural resources such as watersheds, wetlands, and the Great Lakes.
The Oleson Foundation has been supporting Inland Seas since 2009. Their grants have opened gates to allow us to update our campus, facilitate new programs, and help build our 40-person dorms. The updates to the ISEA campus included a new dormitory space for program participants to extend their learning and maintenance of our wetland trails. Their long-term partnership has introduced thousands of youth and adults to become stewards of the Great Lakes.
Who is Kathryn Wise Huschke
Oleson Foundation Executive Director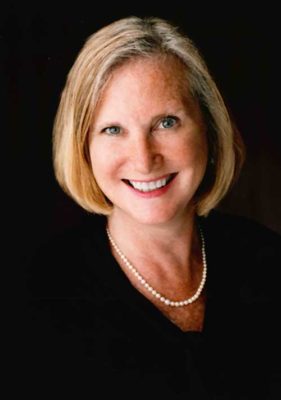 The first time Kathy swam in one of the Great Lakes was when she was two years old. Kathy's parents both grew up in Michigan, but they moved to Traverse City when her father became partners with Harry Running in the law firm Running, Wise. When she was a child, Kathy's father built a wooden raft, tied down by an anchor and set it in the middle of Grand Traverse Bay in Lake Michigan. Kathy and her neighbors would swim in the bay every summer to the raft. They would sing songs and push each other off, having a wonderful time. As she grew out of her childhood, Kathy taught swimming at Clinch Park in Traverse City. She joined the Oleson Foundation 13 years ago and has since become their executive director.

Tom Kelly, founder of Inland Seas, was one of the first people Kathy met when she first joined the Oleson Foundation, which was small at the time. She has been fascinated by the opportunities to learn about the ecosystem and how Inland Seas could play a dominant role in establishing a solid jumping off point to personal stewardship of the Great Lakes through their educational programs. She believes that the ISEA/Oleson Foundation partnership is good because it gives more visibility to the programs and provides opportunities that can make a huge impact. Kathy personally feels that "education for young people is critical," and that one of her main priorities is to advocate for accessible education regardless of learning style or ability. As Kathy said in the interview, "We support everybody." This support comes in the form of philanthropy which is the desire to promote welfare for others, typically through generous donations of money to promote good causes. Kathy has been working for philanthropic organizations for 35 years. Philanthropy is essential for land conservancies, Inland Seas, and others who do environmental work in order to provide great opportunities in conservation and to expand services such as Schoolship programs to achieve a better future.
How the Oleson Foundation is helping ISEA succeed
What ISEA has done in the past
The Oleson Foundation has played a major role in funding Inland Seas' projects.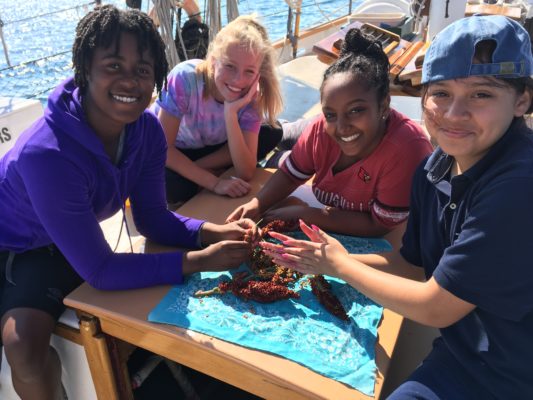 One grant awarded allowed ISEAs to facilitate a Young Women in STEM program. This program allows high school girls to go on a three-day trip on the Great Lakes where they study the Lake's biology and ecosystem, and conduct their own research experiment which they present to an authentic audience when they return to the dock. The program also teaches them how to navigate and operate a schooner.
Oleson Foundation's support has also allowed Inland Seas to create dormitory space for up to 40 participants. Program participants can now expand their experience with Inland Seas by incorporating multiple programs over a longer period of time. This also makes programs more accessible by providing more time to go deeper on topics (for example a program that would take an entire day) or participating in more than one program like Schoolship and ROV Engineer and Explore, which would be a huge asset for schools who have a long commute to reach Inland Seas. They have funded general operations and have helped update other areas of the campus as well. Maintaining the wetland hiking trail is an ongoing process and the Oleson Foundation has helped to do so.
How ISEA impacts the future
At Inland Seas, we care about empowering young people to become stewards of the Great Lakes. Having hands-on experiences as children will make them more aware and connected to the ecological world. As Jacques-Yves Cousteau once said, "People protect what they love, they love what they understand and they understand what they are taught." ISEA's mission is to teach individuals about the Great Lakes so that they will take actions to protect them.
Inland Seas teaches much more than just the Great Lakes. What happens on the shore impacts the lakes so ISEA also promotes the protection of wetlands, streams, and inland lakes.
The health of the Great Lakes will ultimately depend on the generations to come, and the best thing we can do for our youth now is to educate them and encourage them to explore careers and personal actions to create the future stewards of the Great Lakes. Inland Seas has dedicated 33 years towards the Great Lakes, and plans to continue to do so long into the future.
Thank you
Inland Seas would like to thank everyone in the Oleson Foundation for all that they have done for us and our community. Izzy Cooper says, "The Oleson Foundation is such a positive force in our region. Their support of ISEA has been integral to the continued impact of our work and we are incredibly grateful to have developed a meaningful partnership with them over the years." To the Oleson Foundation, Inland Seas appreciates all your support.
---
Chihiro is an undergraduate writing student at Grand Valley State University. Throughout the fall semester, they have been participating in a part-time internship with Inland Seas working on different writing projects across multiple areas.