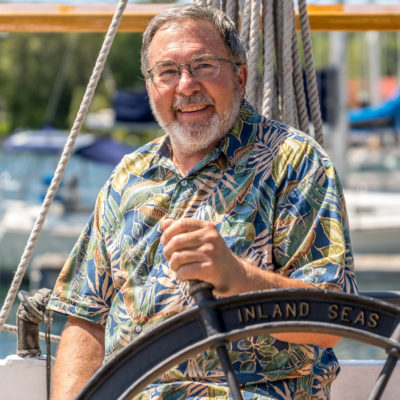 John and his wife, Lesa, retired to the Interlochen area in 2017. Soon after moving, John began volunteering at ISEA by assisting with its insurance program. He joined the board in December of 2018.
A native of Wisconsin, John graduated from the University of Wisconsin – Stevens Point, with a Bachelor of Science degree in Biology. He worked for a national insurance company in Wisconsin, New York, and Iowa. He then worked for an independent insurance agency in Des Moines, Iowa, specializing in risk management and insurance for non-profit organizations. While in Iowa, John served as a mayor, a public school board member, and a city library board member. He is currently actively involved with the Newcomers Club of Grand Traverse and enjoys hiking and snowshoeing.
In 2014, Bill started as a volunteer in the Boat Shop working with students on boat building projects and he helped with the Great Lakes Celebration event. He became a board member in August 2015. He volunteers at Inland Seas Education Association because its missions attracted him, especially environmental stewardship and education. Bill is a retired U.S. Coast Guard officer and attorney who served in various legal and operational assignments during his career. His practice areas included maritime, environmental, homeland security and criminal law. Bill spent his youth growing up in Grand Rapids, Traverse City, and New York City. In his free time, Bill enjoys traveling, sports, and spending time with his family.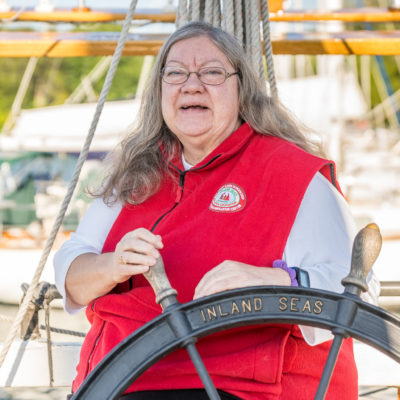 In 1991, Sally Somsel responded to an ad in the local paper asking for ISEA volunteer instructors. With a Bachelor of Science in biology, geology, and conservation of natural resources, Sally thought that this was a perfect avenue for her. Sally is now our Board Secretary and sits on our Education, Events, Human Resources, Marketing, and Fundraising Committees.
For Sally, the mission of Inland Seas fits perfectly with her personal life. She loves to travel, collect rocks and fossils, and is an active member of environmental groups in our northern Michigan area.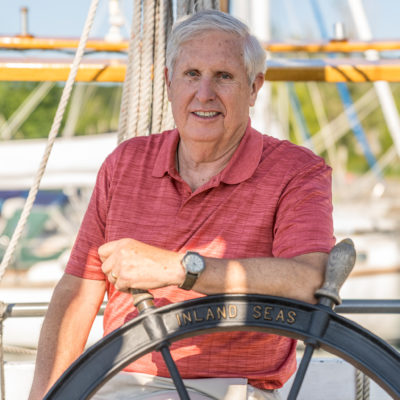 As a former hockey and soccer coach and a Boy Scout volunteer, Pat Curtin has always enjoyed working with young people. Upon his retirement in 2012, he looked for an organization that would allow him to continue to work with youth as well as make a difference in protecting the environment in Northern Michigan. In 2014, Pat became a volunteer instructor for the Inland Seas Education Association. He loves the interaction with students as they learn about the wonders of the Great Lakes and how important it is to protect this incredible resource. In 2017, Pat joined the ISEA Board of Directors and is also on the Fund Development Committee.
Pat was born and raised in Detroit and has lived in Traverse City for over 40 years. He graduated from Western Michigan University with a BBA degree and was a CPA in public practice in Grand Rapids and Traverse City for 38 years. After his retirement as a CPA, he became an adjunct professor in accounting at NMC for 2 years. Pat is married to Maggie and they have 3 adult children and 4 grandkids. He enjoys boating, golf, snowshoeing, traveling, reading and most of all, his grandkids.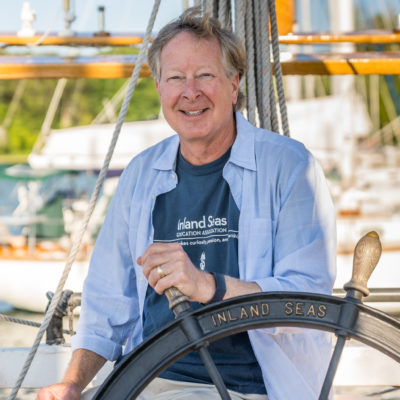 Mark is a former Human Resources executive, who recently retired to Suttons Bay with his wife Julie. His father-in-law, a long-time schooner Inland Seas crew volunteer, planted the ISEA bug in Mark many years ago.  A native of Michigan, Mark spent much of his career living outside the state, in California, the Gulf Coast and Rotterdam, The Netherlands working in the Oil and Gas, Chemical and Marine Transportation industries.
The mission of ISEA to develop stewards of the Great Lakes through education programs is so powerful, that Mark wants to bring his energy to reinforce and strengthen that experience for every student who steps foot on the Inland Seas' schooners.  Mark has been a reliable volunteer, lending staff support on everything from policy issues to serving on the Thomas Kelley Biological Station renovation committee to caring for the facility grounds.
Mark holds a Master's Degree in Industrial Psychology from Western Michigan University, is a certified SCORE mentor, and is blessed with two wonderful children plus two grandchildren—all who spend the summers on West Bay.
Constanza moved to Traverse City in 1994 after finishing graduate studies at Michigan State University, leaving behind the idea of going south to a warmer climate in her native Colombia. At the time, ISEA was building a team of volunteers led by its charismatic founder Tom Kelly, who inspired her to serve this thriving organization. ISEA became one of the reasons to anchor life in the Grand Traverse region, where Constanza has found a wealth of new experiences raising a family and learning how to fish, ski, paddleboard, and kayak. She is honored to join the ISEA Board of Directors to support Tom Kelly's legacy and contribute to the development of freshwater programs in the Grand Traverse region and beyond.
As a science educator, Constanza has served K-12 and higher education institutions, including Traverse City Area Public Schools (TCAPS), Northwestern Michigan College (NMC), Michigan State University (MSU), and Harvard University. She is involved in developing community engagement in water monitoring in Colombia and the Grand Traverse region. 
Constanza holds a Ph.D. in Curriculum, Teacher Education, and Educational Policy.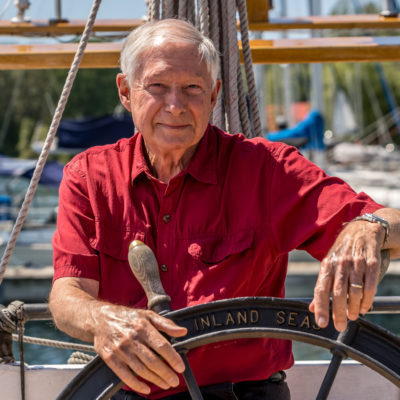 Jerry Ring learned about ISEA when he worked with Tom Kelly to help build the schooner  Inland Seas. At the time, Jerry was Director of Global Contributions and Community programs for The Dow Chemical Company in Midland, MI. Jerry is delighted to have the opportunity to rejoin the ISEA Board of Directors after having served on the Board in the mid-nineties. Jerry holds BS and MS degrees from Boston University, an MBA from Central Michigan University, and a doctorate of Management in Organizational Leadership from the University of Phoenix. Jerry and his family boated from Harbor West Marina on West Bay for many years. He now calls Traverse City his home and looks forward to being part of the future of ISEA once again.
"Same lake," is what Kathy Schaeffer would remind herself as she looked out at Lake Michigan from her 16th-floor office window in downtown Chicago, counting the days until she'd return to her beloved vacation home in Omena. In 2017, Kathy, a life-long Chicagoan, and her husband Gary Roll moved full-time to the other end of the "same lake" – their home on Grand Traverse Bay.
Kathy is a strategic communications consultant who owned a full-service public relations firm in Chicago for 22 years, specializing in issues management and public affairs. Today, Kathy provides communications services to associations, nonprofits and corporations. Kathy began her career with 10 years as a newspaper reporter in the Chicago suburbs. She holds a B.S. degree in journalism from the University of Illinois at Urbana-Champaign.
Kathy is a volunteer instructor on the SV Inland Seas and serves as a crew in training. She also is active in her church. Kathy enjoys cooking, bicycling and reading and is an avid Chicago Bears fan.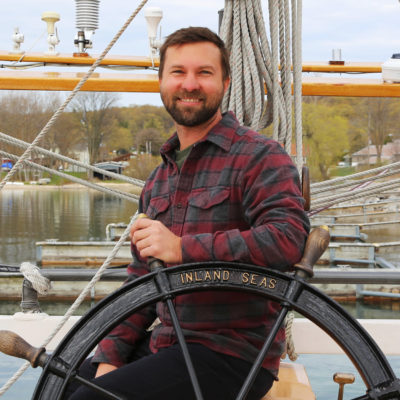 Eric Seefeld's work with inland Seas began in 2016 when ISEA acquired the schooner Utopia. He helped transit her from Sturgeon Bay and then worked extensively on the ship carpentry needed to get the vessel ready for ISEA programming. He has had a close relationship with the organization ever since and joined the board in 2022. Over the years, he has been continuously impressed by the impact and good works of ISEA and its growing impact across the Great Lakes Watershed.
Eric has lived in three of the Great Lakes states before settling in Traverse City in 2013. He has a Bachelor of Science in Biology and currently owns and operates Seefeld Boatworks, specializing in the repair and restoration of wooden boats. He spent time working for the U.S. Forest Service, U.S. Park Service and The Student Conservation Association before realizing a passion for traditional boat carpentry and forming his business in 2014. The ISEA mission and values align with many of his own experiences and passions including traditional boats, conservation, and environmental education for young people. In his free time, you may find him sailing, canoeing, cross country skiing or spending time with his wife Colleen and dog Dax.