ISEA Founder and Visionary – Tom Kelly (1948-2016)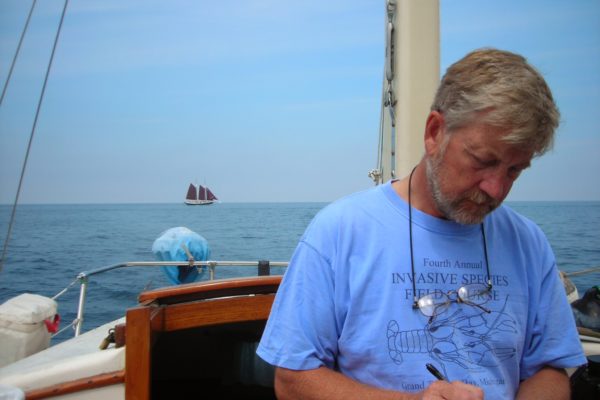 Inland Seas Education Association was founded by Tom Kelly, a dreamer and visionary that this world is fortunate to have known. Not only was Tom a man with a dream of protecting the Great Lakes through education, but he possessed the complement set of skills needed to allow that dream to become reality.  It wasn't enough to teach about the Great Lakes. Tom knew that in order to truly make a difference, people had to care about the Great Lakes. The level of care and concern needed to develop future stewards willing to protect this resource into the future could only occur through a meaningful experience with the Great Lakes. The use of a traditionally rigged tall ship schooner with tanbark (red) sails as the primary learning platform is a prime example of what is meant by a meaningful experience.
Tom's vision also involved inspiring kids to consider careers in the sciences. Tom was keenly aware the future problems the Great Lakes will be significant and that ultimately many of the solutions to those problems will come from scientists. Tom designed the Schoolship program in such a way that each student assumed the role of a Great Lakes scientist for the day. The program allows students to use cutting edge scientific equipment and to experience, first hand, what a job as a Great Lakes scientist looks and feels like. It was Tom's dream that kids see the "job" of a Great Lakes scientist is exciting and fun. Inland Seas continues to inspire the next generation of Great Lakes scientists, ensuring that Tom's vision for our Great Lakes lives on.
Early Years
Tom began his research career aboard the R/V Inland Seas and the R/V Laurentian and later moved to Traverse City to begin the University of Michigan water lab, created to study the ecology of Grand Traverse Bay. Tom took advantage of an opportunity to spend a month working aboard the S/V Clearwater which was a sailing sloop working to clean up the Hudson River through advocacy and education. This experience coupled with their obvious positive impact on the Hudson, caused Tom to come to the realization that we needed a program like this on the Great Lakes.
As luck would have it, Tom's hometown of Traverse City was just about to welcome its first tall ship schooner to the area compliments of the Traverse Tall Ship Company. The schooner Malabar provided the perfect platform for providing the unique experiential learning experience that Tom had envisioned and from 1989 to 1994 allowed the organization to impact thousands of school children.
Inland Seas began drawing school children from around the state and quickly realized the need to increase its capacity. The Inland Seas Education Association began planning for their own vessel in 1991. Tom's vision ensured that this boat was a schooner and that its name was Inland Seas, in honor of the Great Lakes and the R/V Inland Seas that Tom first worked on. Tom also ensured that Inland Seas had tanbark sails to make it distinctive and more memorable for those that experience it.
The S/V Inland Seas was built by Treworgy Yachts in Palm Coast Florida and was launched on May 18, 1994. A brass plaque hangs in the pilot house that reads Many Great Works Are Yet To Be Done. This statement succinctly communicates the dreams of the Inland Seas founder Tom Kelly, and is the reason we work today to ensure his legacy continues long into the future.
Tom's Legacy Far and Wide
The Inland Seas Education Schoolship program opened and closed a National Geographic documentary, Great Lakes-Fragile Seas in 1989. This documentary was shown in 90 countries and brought instant validation to Tom's vision. The National Geographic documentary also brought a steady stream of schools and after 25 years at the helm of Inland Seas, Tom was successful in inspiring over 100,000 Great Lakes Stewards.
In addition to the teachers, biologists, philanthropists, sailors, children, and others Inland Seas has inspired, it has also inspired new environmental sail programs. Bay City, Michigan set up an environmental stewardship sail program called BaySail following Inland Seas' model. BaySail now operates two schooners, the Appledore IV and Appledore V (both built by Treworgy Yachts) that sail from Bay City.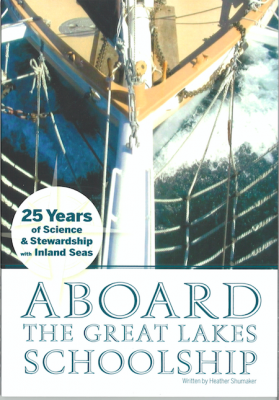 Across Lake Michigan in Wisconsin, boat builders in Milwaukee created a new tall ship, the three-masted schooner Dennis Sullivan. Dennis Sullivan sails as Wisconsin's flagship and promotes field science, Great Lakes stewardship, and environmental awareness. Crew from Inland Seas visited Dennis Sullivan while it was under construction in Milwaukee and demonstrated how they ran their program. Other schooner programs, like the Coaster II, which sails on Lake Superior from Marquette, and Friends Goodwill, from South Haven, have also made trips to visit Inland Seas to learn about the program. Tom's vision of protecting the Great Lakes through education has impacted students of all ages in our region and around the world.
Tom Kelly's impact on Inland Seas Education Association can be found in the book Aboard the Great Lakes Schoolship, written by Heather Shumaker. It is available by calling (231) 271-3077. Funds have been set up to continue to honor Tom's vision. Donate to the Tom Kelly Scholarship Fund to support scholarships for summer interns and schools. Donate to the Tom Kelly Schoolship Upkeep Fund to support maintenance on the schooner Inland Seas.
A tribute event for Tom Kelly was held on September 10, 2016. Highlights include remembrances of Tom by Mike Sullivan and Laura Quackenbush, the unveiling of the Inland Seas Captain Thomas M Kelly Biological Station by Executive Director Fred Sitkins, and the impact of ISEA on previous intern Maggie Oudsema. [Thanks to UpNorth Media Center for recording and editing the video.]