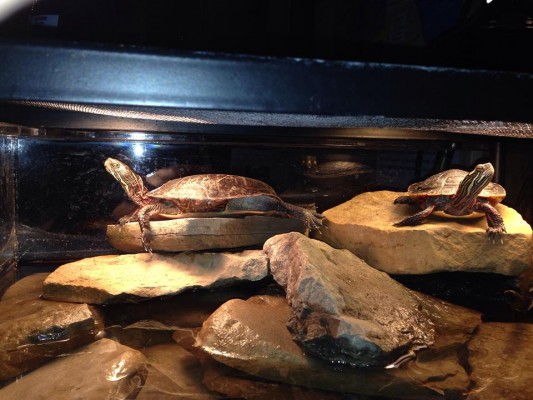 Programs in the Inland Seas Capt. Thomas M. Biological Station are designed to compliment shipboard activities. They involve many science and historical aspects of the Great Lakes and can range from an hour to a day in length. The Biological Station includes the interactive Great Lakes Invaders exhibits, aquariums with local fishes, and a research library. Our hands-on, interactive exhibit space is available for scheduled programs as well as self-guided tours.
The centerpiece of the Bio Station is "Our Inland Seas" Mural Learning Station, painted by local artist Glenn Wolff. Covering an entire wall, this giant Great Lakes watershed mural incorporates elements of the history, ecology, and economics of the Great Lakes. In addition to being a wonderful work of art, "Our Inland Seas" is an effective teaching tool, leading to thoughtful discussion of the many aspects of life in the Great Lakes regions.
---
Capt. Thomas M. Kelly Biological Station Programs:
The Biological Station is open to the public free of charge during business hours.
You may also rent our space for your private event:
1 1/2 or 2-hour shoreside program: Includes group or station activities led by education staff
Birthday Party up to 2 hours: Includes 1 hour program with 4 station activities, Inland Seas souvenir for each child (maximum 30 children)
Call Inland Seas Education Association at 231.271.3077, or e-mail isea@schoolship.org for pricing, or to schedule your group activity.
---
Our exhibits include:
Introductory Invasive Species Exhibit
Spiny Water Flea Exhibit
Zebra and Quagga Mussel Exhibit: Check out the Zebra Bike taken out of Boardman Lake!
Sea Lamprey Exhibit
Phragmites Exhibit
Asian Carp Exhibit
Sand Exhibit
Water Levels Exhibit