Inland Seas Education Association is more than a ship! Expand your group's Great Lakes knowledge and experience by participating in our land-based watershed programs throughout the entire year. These STEM programs focus on protecting the Great Lakes by understanding watersheds, exposing youth to Great Lakes careers, and gaining experience with technology and skills used in the field. Choose from a half-day, full-day, or overnight experience for your group. After reviewing the information below, contact ISEA Program Coordinator Izzy Cooper, icooper@schoolship.org, with questions or to schedule your adventure.*
Program Choices
| PROGRAM | DESCRIPTION |
| --- | --- |
| Watershed Watchers | Identify the boundary of and land use in a local watershed and the stream that flows through it, then assess its health by conducting water chemistry and macroinvertebrate investigations. |
| Study the Stream (MS/HS) | Learn how streams carry runoff from the local watershed into the Great Lakes, then investigate the impact of physical properties of streams and their banks on water quality by measuring riparian zone characteristics and building a stream profile. |
| Dissect the Watershed | Collect and dissect native and invasive plants and animals (e.g. native cattail, native and invasive mussels), and learn about the advantageous adaptations that allow invasives to outcompete native species. |
| ROV Engineer and Explore | Students learn to collaborate in teams to design and build an ROV to complete specific missions. Through this program, they engage with engineering practices, learn how technology can help us observe and protect the Great Lakes, and gain exposure to career paths in marine technology and freshwater protection. *Advanced programming with professional-grade ROVs are available for small groups, robotics clubs, etc. Reach out if you'd like more information. |
| Boatyard Challenge | Learn how ships have been designed and engineered to meet challenges faced by scientists and sailors in Great Lakes history. Then, design a battery or solar-powered boat by upcycling single-use plastic objects in the style of 'Junkyard Wars' to navigate a series of challenges in a water trackway in our lab or outdoor classroom. |
| Navigate the Great Lakes | Learn how to use tools and charts necessary to navigate on the Great Lakes. Determine latitude with a sextant, use bathymetric maps and charts, chart a path through the Great Lakes, and navigate a course with a compass. |
*To schedule fall programming please reach out to Izzy Cooper at icooper@schoolship.org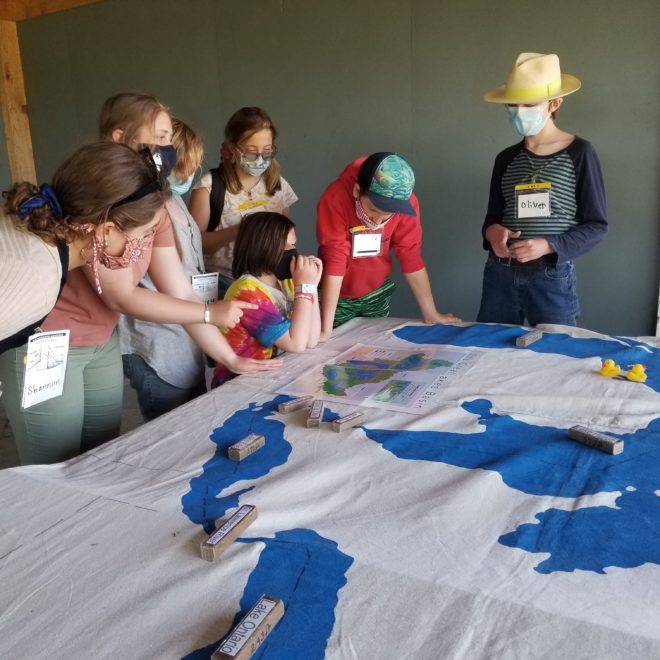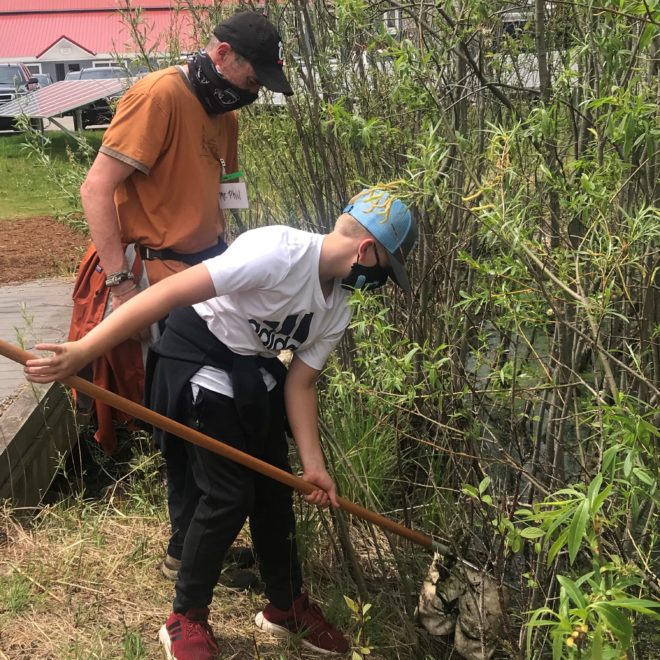 Click here to see how Girl Scouts are using ISEA's watershed experiences in their Think Like a Citizen Scientist Journey.
| Choose Your Adventure | Number of Programs Included |
| --- | --- |
| Half-Day | One Program |
| Full-Day | Two Programs |
| Overnight | Three Programs (plus an optional evening program) and an overnight stay in the dormitory |
*To schedule fall programming please reach out to Izzy Cooper at icooper@schoolship.org
2024 Watershed Exploration Availability
| Month | Day |
| --- | --- |
| March | 18th – 22nd |
| April | 1st – 5th |
---
Evening Program Options
(For those choosing an overnight experience.)
ISEA Facilitated Evening Programs
Watershed Summit (1-1.5 hours) – Take on the role of a farmer, landowner, municipal official, or other neighbor as you work to clean up a watershed and prevent future pollution. Great for any age group.
Climate Summit (1.5-2 hrs) – Learn the various factors impacting climate change, then act as UN countries to come to agreements and limit global carbon emissions. Best for HS groups or those with higher background knowledge in climate change.
Invention Convention (1-1.5 hrs) – Participate in a series of team activities to create, communicate, design, and engineer solutions to communication, critical thinking, and engineering challenges provided by facilitators.
Self-Led Experiences
Cycling the Leelanau Trail – Use a fleet of bikes and helmets to experience the area on the paved Leelanau Trail. Bike to a close overlook and watch the sunset, cycle to dinner at a local restaurant, or visit nearby Leo Creek Preserve, accessible only by the Leelanau Trail. The trail is well-maintained into the shoulder seasons of Spring and Fall.
Campfire by the Bay – Spend your evening huddled around our firepit overlooking Suttons Bay drinking hot chocolate, making s'mores, and sharing stories. ISEA will provide tools for roasting marshmallows, mugs for hot chocolate, firewood, and picnic tables. Additional materials may be provided if requested.