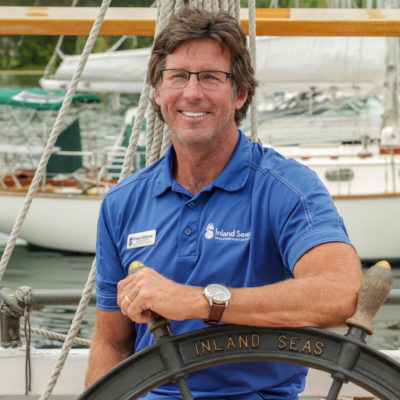 Fred Sitkins became our organization's second executive director in 2013, but he was involved with ISEA during its infancy in the '90s. Before we had a ship of our own, we chartered the tall ship Malabar, which Fred helped crew! After receiving his Bachelor of Elementary Education and Masters of Educational Administration, Fred went on to become a teacher and later the principal at Boyne City Elementary. It isn't often that someone has the opportunity to see his or her life come full circle, and Fred is excited to be at the helm of ISEA after it inspired him so early in life.
Outside of running the organization, Fred enjoys spending time with his wife and two sons playing hockey, fishing, sailing, and mountain biking.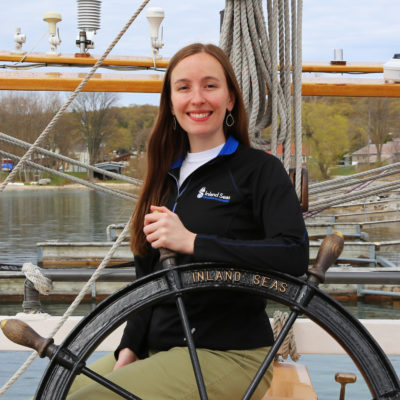 Izzy joined the ISEA team in 2021. Born and raised in Traverse City, Izzy has a deeply seated passion for the Great Lakes and is thrilled to be part of a community that cares about instilling that passion in others. Izzy holds a Bachelor of Arts from Michigan State University where she studied Arts & Humanities and Natural Resource Management. Prior to joining ISEA, Izzy worked as the director of a summer camp on the shores of Lake Michigan.
Outside of work, Izzy enjoys exploring new trails with her dog, throwing pottery and baking pies and other sweet treats.
Harrison first joined ISEA in the summer of 2022. He is originally from the Ann Arbor area; he spent many summers traveling up north, wading through creeks and getting lost in the woods. After graduating from Bowling Green State University, and helping to win a rugby national championship, Harrison decided the next step was to work in Outdoor Education where he found a love for teaching, working with kids, and paddling. After completing a Masters of Education in 2021 Harrison and his wife Nicole looked around trying to figure out where to head off to next. Traverse City seemed like the perfect fit, with career opportunities and the Great Lakes calling they took the leap and have loved every minute. 
When not at ISEA Harrison can be found playing disc golf, walking his dog, or enjoying the beauty of northern Michigan with Nicole.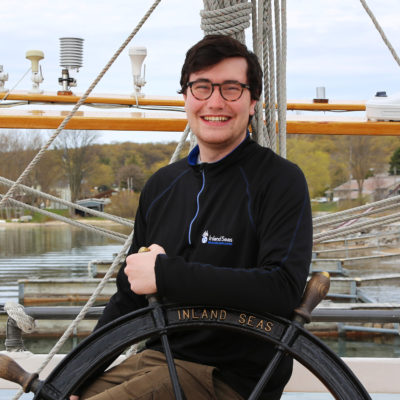 Liam joined the ISEA team in April of 2023. Originally from Clarkston MI, Liam spent many summers growing up on Lake Huron near Cedarville, MI, where he learned how to sail and navigate the Les Cheneaux Islands' unique waterways. Liam attended college in Kalamazoo, MI at Kalamazoo College. He graduated in 2020 with a bachelor's degree in Biology and German. Prior to joining ISEA, Liam worked alongside the Michigan DNR and local nonprofit, Grass River Natural Area, in outdoor education and wildlife monitoring.
Outside of the office, Liam loves to hike, bike, kayak, and sail. Liam also is an avid birder and will routinely stop along trails to work on his native plant ID skills.
Ben was one of our early interns in 1997. After receiving his Bachelor of Zoology, he helped crew and sail tall ships not only in our Great Lakes but in the oceans as well. Ultimately, Ben came back to join our staff in 2012 because he believes in our mission of protecting the Great Lakes through education.
After a long day of captaining our schooner Inland Seas, Ben goes home to his wife and son (a practical carbon copy of Ben, we're sure!) and daughter to relax and play the fiddle.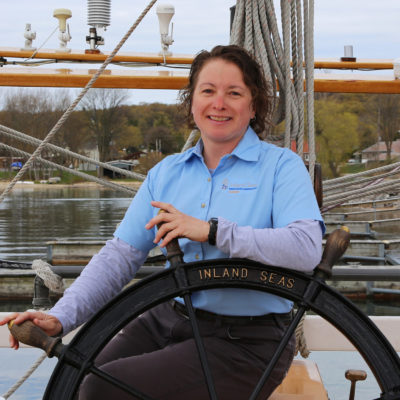 Rebecca has been around water since the beginning; growing up in Poughkeepsie NY, she rowed on the Hudson River, was on the swim team, and in general has enjoyed all that water has to offer. In 1995, Miss Hancock got her first taste of life aboard ship while serving as the Assistant on-board Educator on the Sloop Clearwater. Finding that she truly loved living and working on vessels, after earning a BA in Human Ecology from College of the Atlantic in Bar Harbor, ME, Rebecca found herself attending Great Lakes Maritime Academy. Following graduation and licensing in 2003, she worked as a deck officer aboard many Great Lakes freighters, but found the call of science to once again be strong. The Lake Explorer and Sally Ride quenched some of this thirst. As the wanderlust continued, Rebecca worked as a licensed deckhand on the Safari Endeavour, visiting SE Alaska and Baja, much to her delight. As luck or fate would have it, COVID cut this particular experience short, and Miss Hancock found herself once again in the clutches of a tallship, signing on as the mate of Inland Seas in the spring of 2021.
Life has never been better – sailing around Suttons Bay and beyond – spending time with musician, chef and fiancé Joshua – kayaking down to her house on the Boardman from upriver – and giving her cat Freya all the scritchens. A perfect circle exists, indeed.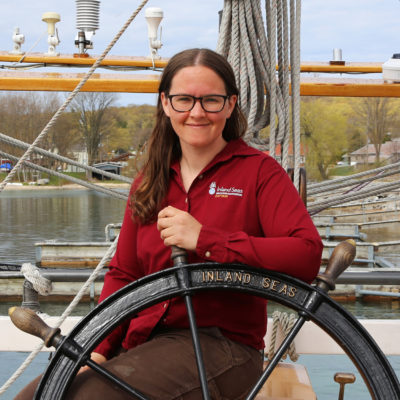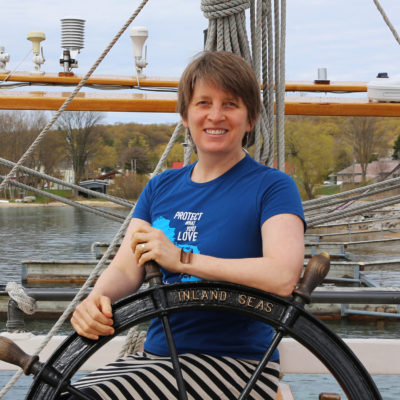 Kate moved to Traverse City in the fall of 2021 and is excited by ISEA's mission. She has lived in a variety of places but has deep connections to Michigan, including many years of visiting grandparents in the Upper Peninsula. Curious by nature and with a Bachelor of Science degree from Michigan Technological University (1988), she looks forward to learning more about the Great Lakes from ISEA staff, volunteers and students.
Outside of the office, Kate loves hiking, exploring parks with friends and family, and making and appreciating art.
Juliana joined ISEA in 2019. Growing up in Leland, MI, she spent many hours in, on, or around the Great Lakes and is excited to return to her northern Michigan roots. Juliana received her Bachelor of Arts degree in Environmental Studies from Denison University and her Master of Science degree in Environmental Behavior, Education, and Communication from the University of Michigan School for Environment and Sustainability. She brings her past experience in the non-profit sector, environmental education, and coastal communities research to her job at ISEA.
Outside of work you can find Juliana exploring the outdoors through hiking, canoeing, and growing vegetables.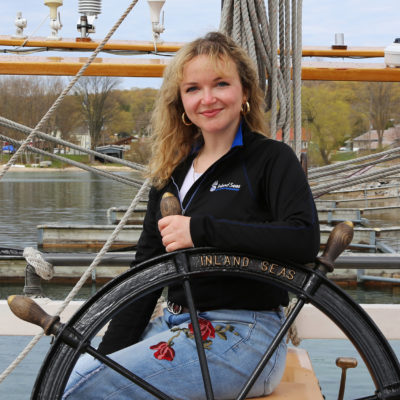 Rachel earned a degree in natural resources management with a biology minor from Grand Valley State University in 2017. A year later she worked with Inland Seas as a Schoolship Education Intern. ISEA offers a unique opportunity to marry her knowledge of science and love of theater; the best sails come with a bit of dramatic flair! She is passionate about protecting the Great Lakes and inspiring the community to love our grand freshwater feature.
During her free time, you can find Rachel flipping her fins as a mermaid in the bay. She also enjoys chilling shore side cozied up with a book and her black cat.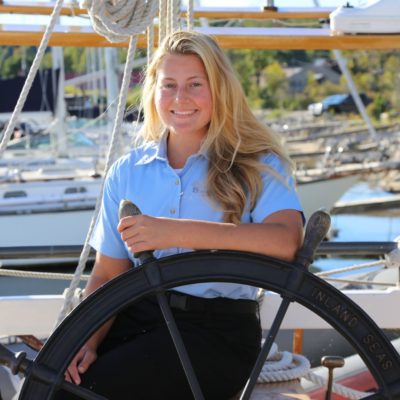 Kari was first introduced to Inland Seas as a student researcher in 2017. In fact, it was the first time she had ever stepped foot on a sailboat! Inspired by her time aboard Inland Seas, she went on to receive a B.S. in Environmental Science from the University of Michigan, and continued her studies in Aquatic Ecology at Uppsala University in Uppsala, Sweden. With the onset of the Covid-19 pandemic, Kari came home from Sweden and found herself working in education. Using her experience teaching middle school science, and providing high school special education services, Kari aims to make science accessible to students of all backgrounds and ages. Having spent most of her life on the water, Kari is delighted to be back in the Great Lakes- this time as a crew member!
After a full day of science and sailing, you can find Kari in the pilothouse dedicated to keeping her Duolingo streak alive. When she's not on the ship, Kari enjoys exploring the shoreside sites of Northern Michigan with friends.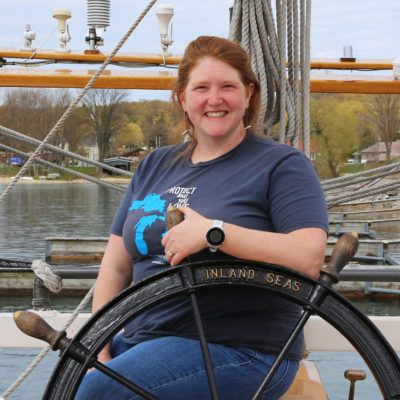 Trisha Smrecak (Smer-jack) grew up in a rural farming community in the Tri-Cities region of Michigan with a family that believed strongly in community involvement. After completing a master's degree in geology, she worked as an informal educator and grant manager at a museum in Ithaca, NY focusing on climate change and evolution. She fell in love with outreach and earned a PhD at Michigan State University to further her ability to reach folks with science and education. After traveling much of the eastern US with her spouse and pup (including a very long hike from Georgia to Maine), she joined the Inland Seas team in 2021. As a paleontologist, Trisha brings a knowledge of Michigan's ancient seas and the creatures who inhabited them, as well as her experience in environmental education and curriculum development, to Inland Seas.
To find Trisha outside of work, look for her backpacking the North Country Trail with her husband, toddler, and dog.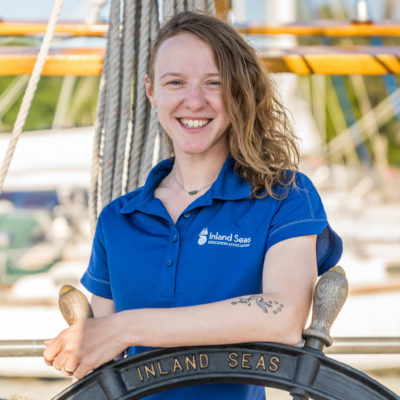 Jillian first joined ISEA in 2017 as an education intern. She is a Great Lakes native from Milwaukee, WI and is the product of urban place-based environmental education programs. A memorable week-long trip to the Bahamas aboard the S/V Dennis Sullivan in high school led her to the physical sciences, a BS in geology, and eventually, a Master's degree in geology from the Large Lakes Observatory in Duluth, MN. She is excited to share with anyone who will listen to the joy of what makes large lakes special features on the earth.
When not discussing geological processes or the limits of human exploration with colleagues and students, you can find Jillian with her husband grooving around town or up in the air, quite literally. She recently spent the last few years learning the joy of circus arts in Madison, WI with training in trapeze, aerial silks, stilt-dancing, and acrobatics, as well as clowning and juggling.
---
2023 Interns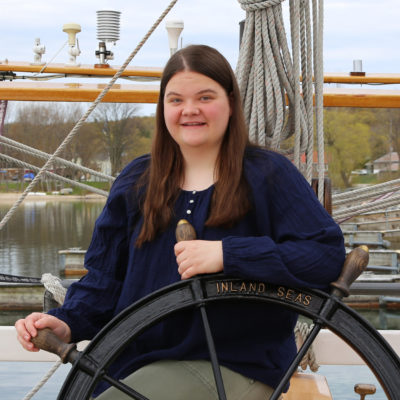 This is Amy's first time working with ISEA. She is from Minnetonka, Minnesota, and has grown up around water and sailing. She is currently going to school at Queen's University in Kingston Ontario and she is studying Environmental Biology. After college Amy wants to do marine biology research. Amy is passionate about aquatic ecosystems and biodiversity, especially coral reefs. In her free time, Amy enjoys playing hockey, traveling, and spending time with family and friends.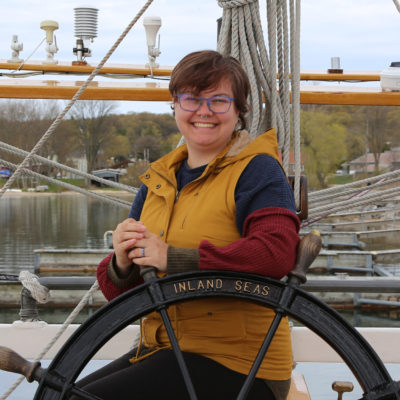 Born and raised in Traverse City, Abbey Hull had always been fascinated by the water. She has two associate degrees from Northwestern Michigan College, one in Mathematics and another in Freshwater Studies. At the end of 2021, she graduated from Western Michigan University with a Bachelor of science focusing on Freshwater Science and Sustainability. She enjoys working outside, especially near the water. Abbey currently resides in Traverse City with her husband, three cats, and three chickens.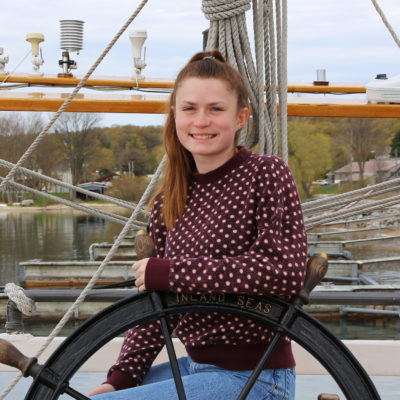 Kelsey Mills likes to stay busy as she is an avid water steward, volleyball player, teacher, and DNR summer ranger. She went to NMC to pursue an associates in Freshwater Studies and graduated in the summer of 2021. Additionally, Mills loves to travel and play with her German Shepherd, Logan.
Originally from Detroit, Audrey grew up sailing on Lake St. Clair and the Detroit River. Spending all this time on the water led her to pursue a degree in Environmental Studies at Grand Valley State University, along with multimedia Journalism. She is thrilled to combine her love of sailing and the Great Lakes with her passion for teaching others about the environment as an intern with ISEA this summer.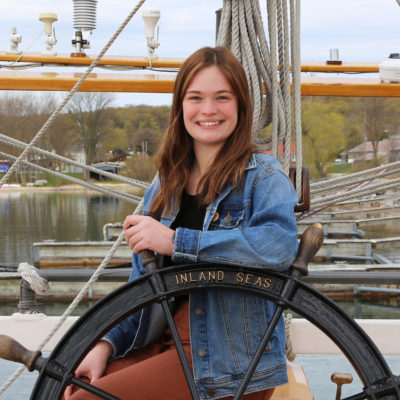 Elise is a West Michigan native. She grew up 20 minutes from Lake Michigan. Elise currently attends Grand Valley State University where she is majoring in Environmental and Sustainability Studies. When she is not in school, you can find her coaching gymnastics, reading, or hanging out with her dog. She loves exploring the outdoors and is always down for a new adventure!
A native of Grosse Pointe, Michigan, Meghan Wysocki is an incoming second-year pursuing a Bachelor of Arts in History and a minor in Music at the University of Michigan – Ann Arbor, most recently completing research on religious language patterns in pre-WWII German propaganda. Her studies reflect deep interests in spirituality and the soundscapes of physical and cultural environments. She has vacationed in northern Michigan her entire life, including a two-summer stint working at a local coffee shop, and is thrilled to be learning and teaching on the water. At Michigan, Meghan is a student carillonneur and has performed in recitals on bell towers in Ann Arbor and Chicago. She also enjoys singing in the Women's Glee Club, FaceTiming her dog, and going for long walks in the Arb.