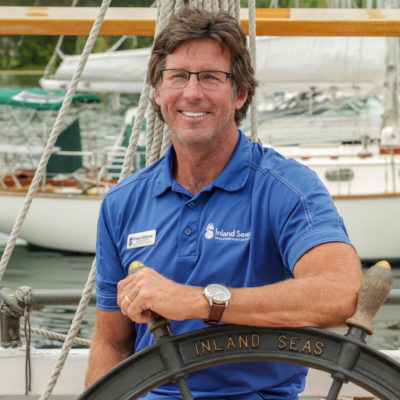 Fred Sitkins became our organization's second executive director in 2013, but he was involved with ISEA during its infancy in the '90s. Before we had a ship of our own, we chartered the tall ship Malabar, which Fred helped crew! After receiving his Bachelor of Elementary Education and Masters of Educational Administration, Fred went on to become a teacher and later the principal at Boyne City Elementary. It isn't often that someone has the opportunity to see his or her life come full circle, and Fred is excited to be at the helm of ISEA after it inspired him so early in life.
Outside of running the organization, Fred enjoys spending time with his wife and two sons playing hockey, fishing, sailing, and mountain biking.
After nearly twenty years working for nonprofit organizations in a wide variety of areas—communications, marketing, volunteer management, project management, event production, group facilitation, and program development—Troy DeShano joined the ISEA team as Fund Development Coordinator in 2019. Troy brings a passion for creating experiences that can expand the way people see the world, and he is excited to share opportunities to support more of those enlightening moments at ISEA.
In addition to his nonprofit work, Troy is an award-winning graphic designer and accomplished artist and illustrator. In his free time, he loves hanging out with his wife, Noël and their three teens.
Ben was one of our early interns in 1997. After receiving his Bachelor of Zoology, he helped crew and sail tall ships in not only our Great Lakes, but in the oceans as well. Ultimately, Ben came back to join our staff in 2012 because he believes in our mission of protecting the Great Lakes through education.
After a long day of captaining our schooner Inland Seas, Ben goes home to his wife and son (a practical carbon-copy of Ben, we're sure!) and daughter to relax and play the fiddle.
Juliana joined ISEA in 2019. Growing up in Leland, MI, she spent many hours in, on, or around the Great Lakes and is excited to return to her northern Michigan roots. Juliana received her Bachelor of Arts degree in Environmental Studies from Denison University and her Master of Science degree in Environmental Behavior, Education, and Communication from the University of Michigan School for Environment and Sustainability. She brings her past experience in the non-profit sector, environmental education, and coastal communities research to her job at ISEA.
Outside of work you can find Juliana exploring the outdoors through hiking, canoeing, and growing vegetables.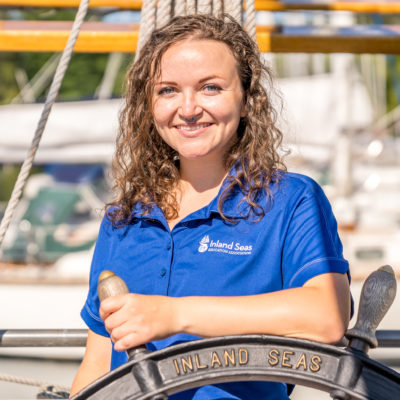 Rachel earned a degree in natural resources management with a biology minor from Grand Valley State University in 2017. A year later she worked with Inland Seas as a Schoolship Education Intern. ISEA offers a unique opportunity to marry her knowledge of science and love of theater; the best sails come with a bit of dramatic flair! She is passionate about protecting the Great Lakes and inspiring the community to love our grand freshwater feature.
During her free time, you can find Rachel flipping her fins as a mermaid in the bay. She also enjoys chilling shore side cozied up with a book and her black cat.
Stephanie joined the ISEA team in 2018. She grew up in Mid-Michigan and received both of her degrees (a Bachelor of Arts in Elementary Education and Master of Science in Community, Agriculture, Recreation, and Resource Studies) from Michigan State University. She developed her love for the outdoors at a young age while picking wild blackberries in her parents' backyard, fishing Michigan's inland and Great Lakes, and camping in Northern Michigan.
In her spare time, Stephanie still enjoys her childhood hobbies of hiking, fishing, and camping with her husband and pup, and regularly exercises her creative muscle with weekend craft sessions.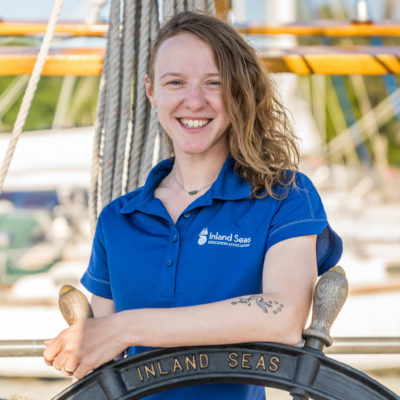 Jillian first joined ISEA in 2017 as an education intern. She is a Great Lakes native from Milwaukee, WI and is the product of urban place-based environmental education programs. A memorable week-long trip to the Bahamas aboard the S/V Dennis Sullivan in high school led her to the physical sciences, a BS in geology, and eventually, a Master's degree in geology from the Large Lakes Observatory in Duluth, MN. She is excited as ISEA's Great Lakes Educator to share with anyone who will listen to the joy of what makes large lakes special features on the earth.
When not discussing geological processes or the limits of human exploration with colleagues and students, you can find Jillian with her husband grooving around town or up in the air, quite literally. She recently spent the last few years learning the joy of circus arts in Madison, WI with training in trapeze, aerial silks, stilt-dancing, and acrobatics, as well as clowning and juggling.