From time to time, ISEA will share Great Lakes' experiences from guest bloggers. In this blog, ISEA donor Bob Nelb shares his experience with Inland Seas and why he and his wife choose to support ISEA. Email marketing@schoolship.org if you would like to submit a Great Lakes experience to be featured.
---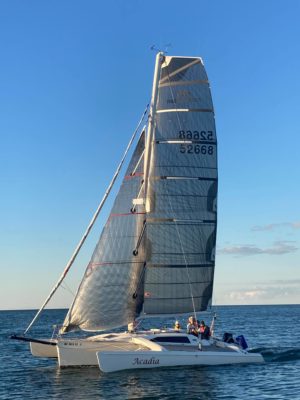 My wife, Tawny, and I have little recollection of how we learned about Inland Seas Education Association (ISEA). After moving to Midland, Michigan in 1989, we vacationed a few times in the Leelanau Peninsula region so perhaps on one of those trips, we learned about ISEA. Anyway, around 1995, we enrolled our two 14-year-old sons for a day trip aboard the relatively new Inland Seas, then sailing out of Traverse City. On the same day, we launched our trailerable trimaran at Elmwood Marina and sailed on Grand Traverse Bay with our 10-year-old daughter while our sons were on the Inland Seas. The whole family had a day of adventures!

We became members and donors, but since we lived in Midland, we had only sporadic in-person contact with ISEA in the years that followed. My most memorable time was in the summer of 2008. We trailered our 28-foot trimaran to Traverse City and sailed to Suttons Bay for a few days. On our last day, the Inland Seas left her dock a few hours before we did. On the way out of the Suttons Bay, we saw her in Omena Bay, so we headed in that direction before turning south toward Traverse City. Later that afternoon, we were surprised to see Inland Seas docking at the end of the pier next to us in Elmwood Marina. Quite a juxtaposition – a schooner and a modern trimaran docked together. After disembarking a group of Girl Scouts, Tom Kelly and I started talking about sailing and ISEA's educational programs. Tom would often stop by to visit with us when he was in Midland.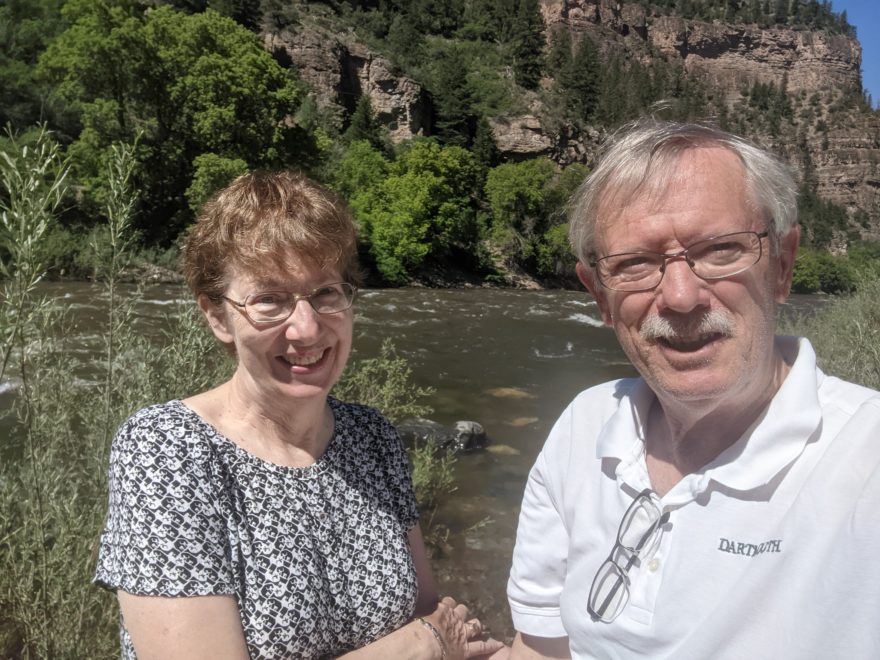 Tawny and I had been aboard Inland Seas for a few minutes with our sons in 1995, during the chance meeting with Tom in 2008, and at the Biological Center Open House in 2019, but we had never actually sailed aboard the Inland Seas. That is until this past July when we finally could take advantage of a member sail. The ISEA staff and crew ordered up a perfect sail – sunny and warm with a brisk breeze. It was a fabulous adventure and we're looking forward to another. Tawny and I have been financial supporters of ISEA for many, many years. Why? It's partly my love for sailing and partly my interest in science (I'm a retired organic chemist). To me, ISEA is a perfect blend of the two with kids and adults learning about science while having fun. Using this platform to promote the stewardship of the Great Lakes is an added bonus that benefits all of us who love the Lakes.

In 2004, I retired from my chemist job and started a new career. For the next 11 years, I was the Executive Director for the non-profit Saginaw Bay Community Sailing Association based in Bay City. I took care of the day-to-day business, taught youth and adult sailing lessons, did a lot of boat maintenance, wrote grants, and helped teach a boatbuilding class in the winter months. But the most satisfying part of this job was seeing the excited smiles on the kids and adults as they realized they had just captained their own ship! What a sense of accomplishment they had. I'm sure it is very much like the excitement the ISEA crew sees in their program participants. One thing I learned while running a non-profit is that many times, volunteerism is equally or more important than financial support. I'm sure that this is true for ISEA as well. So, inventory your skills, see how they mesh with the needs of ISEA, then lend a hand when and where possible. Though Tawny and I strongly support the mission and purpose of ISEA and wish we could volunteer our time and expertise, we live too far away to make this feasible. So instead, we do the next best thing – send money!
---
Bob and Tawny Nelb live in Midland, having moved there from Connecticut thirty-three years ago with their three children. Many years ago, Bob graduated from Dartmouth College (B.A. Chemistry) and the University of Iowa (Ph.D. Organic Polymer Chemistry). He is now "retired," but volunteers his boat maintenance and boatbuilding skills to the Saginaw Bay Community Sailing Association. Tawny graduated from the University of Notre Dame (B.A. American Studies) and Southern Connecticut State University (M.A. History). She is an archivist/historian with her own consulting business providing expertise to a national clientele. They spend their spare time sailing, woodworking, bicycling, hiking, gardening, singing, researching topics of local historic interest, and trying to keep up with their four grandchildren. They are pleased to be able to provide support to organizations like ISEA.