---
Spring is one of the most magical times of the year: The warming of the air, and, albeit much slower, the water; the blossoming of buds on trees; the emergence of insects; the return of migratory birds; the brief, yet beautiful, life of many of our spring ephemeral wildflowers. There is so much to do and see and experience in the spring of northwest Michigan, and Spring Schoolship is no different.
A little bit about who I am– if any of you reading this were on for a Spring Schoolship program, we probably have already met. For those who have not, I'm Liam, the new Great Lakes Educator for Inland Seas Education Association. I graduated from Kalamazoo College with a bachelor's in Biology and German in 2020. Directly after graduating, I worked with the DNR at Island Lake State Park. Later on, I moved "up north" (up north to me is defined by where Balsam Fir trees can grow in Michigan) to work at another non-profit, Grass River Natural Area, where I worked as part of their education team. After that, I then moved back down to Kalamazoo where I worked as an actor (of all things!) for a year. Since then, I am deeply excited to have moved back "up north" to work at the present and wondrous Inland Seas.
I started work with ISEA in mid-April of this year and I cannot believe that the Spring Schoolship season has reached its end already! One thing that immediately became apparent to me when I started program delivery was how much of an upper hand we, at Inland Seas, have compared to many other outdoor education programs. In my personal experience, it is truthfully quite rare to have kids, especially middle school and high schoolers, express interest in the topics we're discussing or ask insightful questions based on the educational material. There might be a couple of students that are especially engaged or curious, but for the majority of the class, educators put forth a lot of effort to instill a sense of genuine curiosity and passion for the subject they're teaching. In my brief, yet immersive, time aboard S.V. Inland Seas, every class has been incredibly excited to get on the ship, find fish in our trawl, put up the sails, and learn everything about why the Great Lakes are the 8th wonder of the world. For the past several weeks, I have fallen in love with the mission of Inland Seas, and I have gotten to meet so many wonderful people that embody that joy for the Great Lakes.
We had a busy season this spring. Between the Manitou and Inland Seas programs, we ran 68 programs and we served over 1,200 students this spring. Every day was a beauty all its own, and here were some of the moments that made this spring especially memorable.
Mudpuppy Mondays:
In early May, the fish instructor, Kathy Schaeffer, was checking the traps that were set overnight as we got ready for our morning program. What a wonderful surprise we were all in for when Kathy discovered a common mudpuppy, N. maculosus, in one of our fish traps. Although its name is the common mudpuppy, there is very little that is common about them. Mudpuppies are striking creatures, with the most notable of all their features being their crimson gills. Mudpuppies, like all salamanders, breathe oxygen through their skin, however, due to their large size compared to other salamanders, they also have external gills that help siphon even more oxygen from their aquatic habitats. The most common question we had during our program that day was: "Is that an axolotl?" It's easy to see why people ask, they do look strikingly similar, however, this is another puzzling case of homoplasy, where two species have similar physical features or functions but they do not share a common ancestral origin. Axolotls are native to just two lakes in Mexico, Lake Xochimilco, and Lake Chalco, and as such are quite endangered. The common mudpuppy is native to the upper midwest of the US and lower tributaries of Canada, and are actually considered an introduced species to the state of Maine. Currently, in the state of Michigan, mudpuppies are not considered endangered or threatened. Mudpuppies are nocturnal creatures, becoming active at night to hunt their prey which is probably when we caught our friend on that fateful day in May.
Midge with a Sense of Style:
The Benthos Station is known for some pretty awesome moments, whether it's teaching kids how to use the PONAR system, straight-hauling on the anchor rode, or sorting through chara and mussels, many groups leave the ship saying the Benthos Station was their favorite place on the boat. While you never quite know what the bottom of the lake will bring on any particular day, one thing is almost always a given, C. plumosus, or midge larvae. As anyone who has been out on the boat can tell you, midge larvae are quite abundant on the Great Lakes. Students that come out on the boat with us, are always in awe that these crimson-colored "worms" that they find in the PONAR grabs are the same species as adult flies that emerge in large numbers in spring and always manage to find their way up your nose. When Juliana Lisuk, ISEA's associate director, was out on one of our programs this spring when she happened across one very special midge that was found, not in the PONAR sample, but rather in the Otter Trawl. Midge larvae have a mysterious life cycle already, so when Juliana found this particular midge, it was clear that we still have a lot to learn about their complicated and sophisticated life cycle.
Pictured above you can see Inland Sea's very own fashion model showcasing 2023's premiere mussel necklace. I hear it's all the rage in the benthic layer right now.
Fantastic Fish and Where to Find Them:
Anyone who has ever run the Fish Station or done an Otter Trawl knows very well about how variable the catch of the day can be. Sometimes you can get skunked with no fish, sometimes you're overwhelmed with hundreds of gobies. You can never be certain what's ended up in the cod end of our trawl! Here were some of the highlights this spring of what we found in the fish station:
White Sucker:
In this photo our very knowledgeable and wonderful deckhand educator, Abbey Hull, showcasing our off-the-scales white sucker, C. commersonii, that was caught in the Otter Trawl and was released shortly thereafter. As their downward-facing mouthparts suggest, white suckers are bottom-feeding fish. They can eat almost anything, usually feasting on small invertebrates, algae, and plant matter. Trout, bass and pike have all been known to prey on white suckers. While our trophy sucker measured just over two feet long, they have the potential to get much larger still, the largest one recorded was pulled from Rainy River, Minnesota at a staggering 6.5 lbs.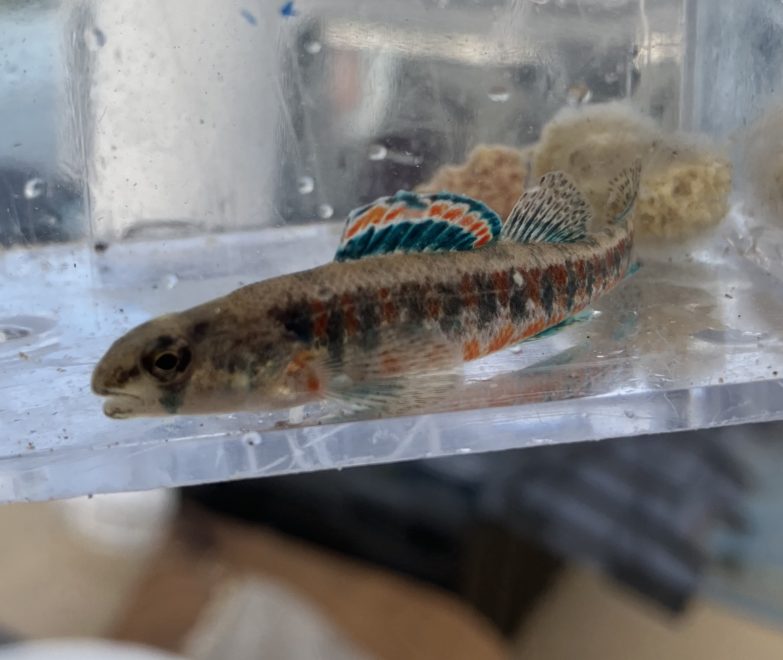 Iowa Darter:
The beautiful, rare, and elusive Iowa Darter, E. exile. This was my personal first time seeing this gorgeous fish, photograph is courtesy of our interns, Meghan Wysocki and Amy Foster. It's easy to see why some kids call it the "rainbow fish". Unlike most fish, Iowa Darters lack swim bladders, allowing them to sink down to the bottom of lakes where they eat copepods, midge larvae, and water fleas and live within the dense aquatic vegetation to avoid predation. Iowa Darters populations are vulnerable within the Great Lakes region, which makes finding this gorgeous fish even more meaningful and inspiring.
Yellow Perch:
Our one and only Frank Simkins, holding up one of the larger yellow perch, P. flavescens, that we've ever caught in the Otter Trawl. Far too big for the fish tank, this perch was quickly released back into the wild. As funny as it sounds, yellow perch are not great swimmers, they have a hard time accelerating quickly and as a result, sometimes end up in our slow-moving Otter Trawl. As many fishers in the area will tell you, yellow perch are one of the most sought-after fish for human consumption. In fact, yellow perch represent over 85% of the sport fish caught in Lake Michigan every year.
V.I.V. (Very Important Volunteers):
Out of all the miraculous and beautiful things that happen on Inland Seas during Schoolship season, by far the most phenomenal aspect of all was getting to meet the wonderful team of volunteers that make ISEA possible. If you were on a program this spring, I personally thank you for coming out and supporting our mission. On every one of the over 30 programs I participated in this spring, I was thoroughly impressed and amazed by every single volunteer instructor and crew member that I met. Everyone has been so welcoming and kind during my time learning the Lead station and I truthfully could not have done it without the steady guidance and support of my instructor and crew teams. If you participated in any programs this spring, from the bottom of my heart, thank you!
Stay tuned for more exciting news about our programs, away port visits, and public sails this summer!
---
This blog is provided on behalf of Inland Seas Education Association (ISEA). ISEA's mission is to inspire a lifetime of Great Lakes curiosity, stewardship, and passion in people of all ages. We do this through hands-on educational programs based on our schooners or in our local watershed. To learn more about ISEA please visit scholarship.org.