Nonprofit organizations cannot operate without the generosity of people who share a common idea of the impact they can leave on the world. Support from our donors is a driving force behind ISEA. Their generosity and commitment allow us to further our mission of inspiring lifelong Great Lakes curiosity, stewardship, and passion. There are plenty of organizations that are doing good for the world, but I had wondered why our donors choose to support ISEA. After connecting with some of our passionate donors, a similar message rose to the top, the stewardship mission of Inland Seas is within their hearts. Each donor has their own Great Lakes and ISEA story and I was lucky enough to learn about them.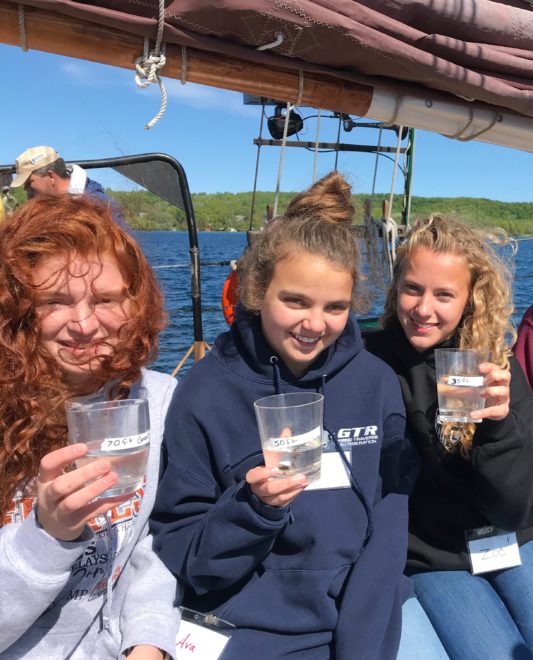 I had the pleasure of speaking with Marsh Evans, who has been involved with ISEA for more than 30 years. He has taught special education in Hastings, MI for over 40 years along with coaching football and baseball. Marsh first got involved with the organization after reading an article about our founder, Tom Kelly, and his idea of creating a floating classroom. After being inspired by Kelly's vision and sharing a similar passion for the Great Lakes, he knew this was an organization he wanted to be involved with. He appreciates how ISEA influences learners and teachers alike within an organization whose participants share a common goal of preserving the Great Lakes. Marsh says he's been blessed to sail on several trips with his kids over the years.
Lois Bahle is a 4th generation resident of Suttons Bay. Her great grandfather kept his schooner, the OM Nelson, between the ISEA dock and the south main marina dock in Suttons Bay. He used the schooner for transporting lumber around Lake Michigan ports and to bring home freight for his retail store, Bahle's. Lois first got involved with Inland Seas as a friend of Tom Kelly's. Growing up in Suttons Bay, she has experienced the changes in water quality, shoreline development, and invasive species herself. She is passionate about Kelly's Schoolship vision and protecting the fragile value of the Great Lakes.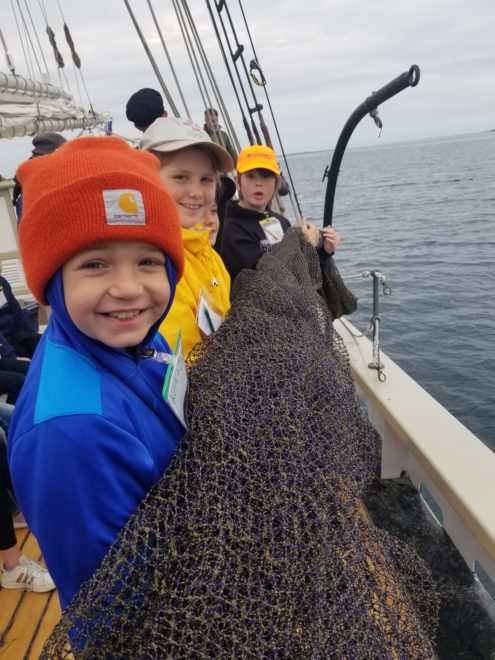 Another reason donors are attracted to Inland Seas as Peggy and Graham Martin describe is our "commitment to educating young and old souls about the importance of a healthy freshwater system in our Great Lakes." They recognize the need for stewardship of the Great Lakes and believe ISEA is an organization that is conscious of this need.
ISEA attracts people from all walks of life, including scientists like Sally Somsel who was first involved with Inland Seas 31 years ago when she became a Schoolship instructor. She is naturally drawn to the uniqueness of a floating classroom. Sally wants to help strengthen the connection individuals have to the Great Lakes and inspire people to protect what they love. Protecting the earth while having fun in doing so also drives Sally to support the mission of Inland Seas.
The biggest beneficiary of our donor's generosity is the students who have the opportunity to experience an Inland Seas program and participate in an unforgettable experience. Marsh, Lois, Peggy, Graham, and Sally all see the uniqueness of the experiences ISEA provides. If your goals for the Great Lakes are similar to ours, we'd love to have you join us in providing programming that inspires and develops stewards for the Great Lakes. Donations to give youth opportunities to begin their relationship with the Great Lakes can be made here.
---
This blog was written by Caleb Ameel, 2022 Marketing and Communications Summer Intern for Inland Seas Education Association. Caleb is a recent graduate of Grand Valley State University with a B.B.A. in Marketing. In his off time, he enjoys kayaking, playing golf, and exploring the outdoors. Growing up in Traverse City, connection with the Great Lakes has always been important to him.