My name is Caleb Ameel and I am the Marketing and Communications Intern. In addition to interning with ISEA this summer, I am completing my B.B.A. in Marketing from Grand Valley State University.  Working with ISEA was attractive to me because of my love of the Great Lakes and what they represent to both the Earth and people. I'm super excited for the opportunity to work with an organization whose mission is geared towards education and the protection of such an important ecosystem. Another positive factor for me was the organization's proximity to my hometown of Traverse City. Getting to spend the summer months so close to home is truly a blessing. Throughout my internship, I will be staying in the on-site housing Inland Seas provides for its interns as well as on the schooner Inland Seas as it travels for programs. I look forward to exploring all that Leelanau County has to offer from hiking, good food, and beaches.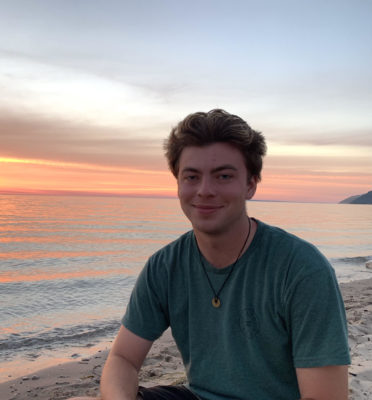 Growing up in Traverse City just a few miles south of the office, the Great Lakes have always had a role in my life. I remember early on in grade school our class was learning how to remember the names of all five Great Lakes by using the acronym "HOMES." Now that I'm a young adult, I can acknowledge the foreshadowing of that lesson. Just like so many others in our state, the lakes have become synonymous with the definition of home in my life. In particular, Lake Michigan and its shorelines provide a sense of connection and grounding. Lake Michigan connects the place I grew up, Traverse City, and my current home, Grand Rapids, as I can drive 15 to 30 miles west and be standing on the same shoreline. Each time I visit I'm humbled and amazed by its vastness and mystery. The lakes can be so many things from a place of relaxation, introspection, exploration, or excitement.
Leisure activities are also an important aspect of the lake lifestyle. I most enjoy kayaking or paddleboarding on an early morning. The memories dearest to me is watching sunsets on the beach with close friends in the summertime. These times of connection are significant to me as they're grounded in a shared love of the lake and what it means. That is exactly why respectful use of the Great Lakes is so important.
The Great Lakes are facing several outside factors that are damaging to their health. Invasive species hurt the ecosystem of the lakes by damaging the food web and displacing habitats. Pollution and climate change are also negatively affecting the Great Lakes by affecting water quality, lake levels, and weather patterns. On an individual basis, I believe the best thing we can do to protect our lakes is to share our knowledge with others and stand up for their protection. The Great Lakes have provided our population with great resources. We must treat them with the same love and respect by making sure they remain healthy as long as we're here.
Through my time with Inland Seas, I hope to learn extensively about the operations of a non-profit organization. This type of organization has always been of interest to me because of the blend of business principles and doing good for communities. I look forward to learning more about the resources behind ISEA's mission. While sailing on programs, speaking with community members, and working alongside volunteers and other interns, I'm confident I can master both my technical and interpersonal skills to further Great Lakes education.
---
Caleb Ameel is a recent graduate of Grand Valley State University with a B.B.A. in Marketing. In his off time, he enjoys kayaking, playing golf, and exploring the outdoors. Growing up in Traverse City, connection with the Great Lakes has always been important to him.