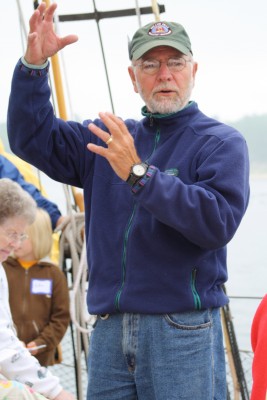 ISEA's Schoolship program is for students from 4th–12th grade. Students come onboard and participate in a three and a half (3.5) hour hands-on Great Lakes ecology experience, designed to promote stewardship of the Great Lakes. Our Schoolship instructors are trained by ISEA staff and become proficient in a learning station (no experience is necessary). Instructors guide students in small groups as they rotate through stations and discover the wonders of the Great Lakes. Our sailing season is mid-May through mid-October. Spring and Fall are dedicated to school groups. Volunteers are also needed for summer programs which are open to the general public.
As a Schoolship instructor volunteer, you will:
·   Assist students (and adults) as they rotate through stations, learning about plankton, benthos, fish, water chemistry, microplastics, and seamanship
·   Share information about Inland Seas with participants
If you are interested in becoming a Schoolship volunteer or have any questions, please contact Volunteer Coordinator Rachel Ratliff at (231) 271-3077 ext. 106 or rratliff@schoolship.org.