Inland Seas Adds Schooner Utopia to Fleet
Ellsworth Peterson of Sturgeon Bay, WI and Honolulu, HI donated his famed 77-foot schooner, Utopia, to the Inland Seas Education Association (ISEA). The schooner is expected to be at its new home port at the Discovery Pier in Traverse City, MI on Thursday, September 29, 2016.
The addition of the utopia to ISEA will allow the organization to reach more individuals with their mission of inspiring Great Lakes curiosity, stewardship, and passion. "There is no doubt in our mind that Utopia is the perfect platform for developing a love of our Great Lakes. The love of the lakes that Utopia will inspire will help to ensure that they will be protected in the future." said Fred Sitkins, ISEA Executive Director. Inland Seas promotes protecting the Great Lakes through programs on the Inland Seas schooner, in classrooms, and through public programming.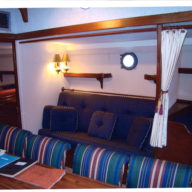 While specific plans for Utopia are still to be determined after Coast Guard inspection, ISEA plans to use her at the Discovery Pier next summer. A grant secured from
the Worthington Foundation will allow Inland Seas to purchase a remotely operated underwater vehicle (ROV) and develop an underwater course for school groups and the public beginning in 2017. This program will be run from Utopia.
Ellsworth Peterson, retired chairman of Peterson Builders, said, "Inland Seas Education Association is the ideal new home for the Utopia. After our research, we determine that space, economics and programming precluded our leaving her in Sturgeon Bay." Peterson's friend and crew mate, Jerry Waite, introduced him to ISEA where he learned of their environmental and student education programs allowing theUtopia to continue the maritime legacy that began in 1946.
The 77′ staysail schooner, designed by the late Fred J. Peterson and built in 1946 by Peterson Builders, began its maiden sea voyage in 1947 when she cruised the North Atlantic, Mediterranean Sea and Caribbean Islands. In November 1956, Fred Peterson and crew embarked on a three-year cruise around the world, stopping at ports in the Azores, Tangiers, Gibraltar, Canary Islands, Trinidad, Havana, Tonga, Galagapos, the Solomons, New Guinea and dozens more. It is estimated Utopia has logged more than 60,000 miles, including several Chicago-Mackinac races. In recent decades, Utopia, owned and skippered by Ellsworth Peterson, has been a goodwill ambassador in Door County, WI and elsewhere hosting numerous non-profit events and receptions.
Fred Sitkins said of the schooner, "We are thankful for the story of Utopia and the Peterson family and will work hard to ensure that this story is told to as many people as possible."