Inland Seas Captain Thomas M Kelly Biological Station
SUTTONS BAY, September 12, 2016 – Inland Seas Education Center unveiled plans for the Inland Seas Capt. Thomas M Kelly Biological Station on Saturday, September 10 during an event to honor the late founder and executive director, Tom Kelly. The current facilities at 100 Dame Street in Suttons Bay will be renovated to include dorm space in the lower level of the Education Center and a new building capable of storing and maintaining ship and scientific equipment as well as the boat shop. The upper level of the Education Center will remain an invasive species museum and continue to house the Suttons Bay Visitors Center. The project is expected to be completed within five years.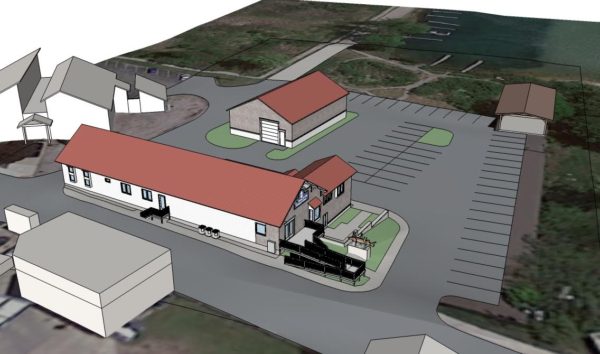 With hundreds in attendance, Fred Sitkins, current executive director, announced ISEA has $810,000 pledged to renovate their Education Center for this non-traditional biological station. "What makes this biological station unique is that our primary focus is to provide accommodations to classrooms participating in our Schoolship programs during the spring and fall as well as large groups that we work with on our schooner during the summer months." said Sitkins. Along with providing overnight accommodations for large groups, space for traditional biological station operations including housing for visiting college professors, space for graduate or college students, and space for interns will be available.
Participants will have direct access to Suttons Bay and Grand Traverse Bay as well as the tools to use them. In addition to using the schooner Inland Seas, groups will have access to the ISEA whaleboat and science equipment. "Our location, access to research vessels, and longstanding connections to the professional Great Lakes science community will surely be attractive to a wide variety of scientists and researchers working to protect our Great Lakes." Sitkins said.
Through this project, Inland Seas hopes to strengthen their partnerships with local nonprofit organizations like TART Trails, the National Park Service, and local land conservancies to provide a full day of meaningful activities for students. Sitkins explained, "For example, students could participate in a Schoolship program in the morning, ride the TART Trail, climb the dunes, or explore a protected piece of land in the afternoon, and then return to the biological station for additional fun and to sleep."
ISEA is seeking additional funders to reduce the 5-year time frame. "We would love to begin this multi-step transition as early as next year so that we can provide these life changing experiences for students as soon as possible." Foundations and businesses interested in contributing to this project can contact Fred Sitkins at fsitkins@schoolship.org or 231.271.3077.