Teachers can be students, too! ISEA offers teacher workshops during the summer to keep you up-to-date on Great Lakes issues and connect you to other teachers.  Read below to find out more about the professional development opportunities we have available to teachers.
Inland Seas - Great Lakes Watershed Field Course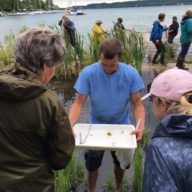 The Great Lakes Watershed Field Course is a 4-day professional development experience. The 2019 course took place June 24-27, 2019 with teachers throughout the Great Lakes region. Teachers will receive continued support during the 2019-20 school year. Participants visited projects in the Grand Traverse region that improve watershed health: invasive species control and prevention; native species habitat improvements; nutrient run off reductions; and cleaning up Great Lakes Areas of Concern (as defined by the Great Lakes Restoration Initiative).
"The experience [was] quite literally life changing for me.  I was pretty overworked and burnt out and ready for a career shift until I started this path." ~Holly Hereau, South Redford School District, 2017 Participant
Training in the course includes watershed and environmental concepts, place based education and environmental education pedagogy, and time for curriculum development. It is open to teachers in all content areas, but teachers who participate are required to implement a watershed-based stewardship project with their class. Inland Seas supports teachers throughout the school year with additional training, online forums, and other forms of assistance.
Click Here for an overview of the 2019 Great Lakes Watershed Field Course.
This professional development was possible due to a NOAA B-WET grant.
ISEA is seeking grant support to offer future Great Lakes Watershed Field Courses. Stay tuned for more information.
The following video is a highlight of the 2017 Great Lakes Watershed Field Course.
Grand Traverse Stewardship Initiative
The Grand Traverse Stewardship Initiative (GTSI), an initiative of ISEA, provides year-round support and professional development specifically to teachers that are interested in implementing place-based education in their classrooms. It traces its origins to the Great Lakes Water Studies Institute at Northwestern Michigan College. In 2004, a professional development initiative began, first as RIPPLE and later as the DTE Freshwater Institute for Teachers. The goal was to help teachers launch place-based education in K-12 classrooms as a strategy to inspire lifelong stewardship of freshwater.
In 2007, inspired by these efforts in the Grand Traverse region, the Great Lakes Fishery Trust (GLFT) established and funded a state-wide initiative called the Great Lakes Stewardship Initiative (GLSI) with the mission of providing educators with the training and experience needed to help Michigan's young people gain knowledge about the Great Lakes watershed, and become future stewards of the environment.
The GLSI's infrastructure is made up of nine regional "hubs" in Michigan who provide leadership, expertise, and support for the GLSI's three key strategies: Place-based education, school-community partnerships, and sustained professional development for teachers.
In 2009, the GLFT provided funds to establish the Grand Traverse Stewardship Initiative and  since 2010, 89 teachers, 113 community partners, and 5,000 students have collaborated on place-based projects.
Some of the benefits to teachers include:
Sustained professional development – The GTSI Coordinator collaborates with partners, administrators, non-traditional educators and PBE experts to offer a diverse menu of professional development sessions that cater to teachers' needs.
Place-Based Education – The benefits to utilizing PBE with your classroom are numerous. The students and teachers reap the benefits of more engaging learning opportunities and the local community benefits from the outcomes of school- partner relationships and a next generation of stewards that are more invested in 'place.'
Community Partner Relationships – Community partners can serve as a wonderful resource to educators, providing teachers with greater background knowledge on specific content, engaging directly with students to share information, and involving classrooms in hands-on projects that produce visible outcomes. GTSI's role is to provide resources and assistance to time-limited teachers to help nurture those valuable relationships with community partners.
Access To Resources – GTSI does the hard work of tracking down resources to make them easily available to teachers. Funding for classroom projects, community partners open to collaborating, curriculum and classroom activities, professional development … the resources we collect for teachers are as varied as the teachers' needs.
One-On-One Assistance – The GTSI Coordinator is available to work one-on-one with individual and teams of teachers to provide guidance on project implementation, community partner engagement, PBE and project-related curriculum for in-class implementation and funding.
GTSI is committed to:
Providing mini-grants for teachers to implement place- based education projects with their students
Hosting educator sails for GTSI teachers aboard Inland Seas
Providing workshops on the fundamentals of place-based education
Implementing community connections workshops that provide a forum for networking and collaboration with community partners
Contact Fred Sitkins, ISEA Executive Director (fsitkins@schoolship.org), to find out more about GTSI.
Teachers outside of the Grand Traverse region can click here to visit the Great Lakes Stewardship Initiative website to find a GLSI hub near you!