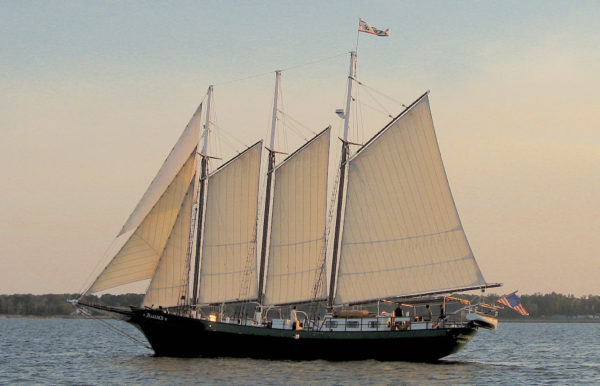 SUTTONS BAY, MI, 01/06/23 – A 105-foot, three-masted schooner will be sailing the waters of Grand Traverse Bay this summer. Inland Seas Education Association (ISEA) expanded its sailing fleet with the purchase of the schooner Alliance. This acquisition was in response to the growing demand for ISEA's programming across the Great Lakes. 
Juliana Lisuk, ISEA Associate Director explained, "The demand for ISEA's unique programs continues to grow and has exceeded our current shipboard capacity. The addition of the Alliance will allow us to deepen our impact by providing programming to more partners in Detroit, Chicago, Houghton, Green Bay, Cleveland, and other ports around the Great Lakes, while simultaneously having a larger presence throughout the sailing season at our home port in Suttons Bay." 
ISEA's expansion ultimately reflects a wider recognition of the importance of education in protecting the Great Lakes. Schools, organizations, and members of the public look to ISEA for this programming, but a lack of capacity has meant many requests go unfulfilled each year. The addition of another ship will allow ISEA to usher in the next generation of environmental stewards by continuing to connect them in meaningful ways with their watersheds.
The ship's name will remain Alliance as it represents ISEA's partnerships across the Great Lakes. Colleges/universities, nonprofits, K-12 schools, foundations, and other organizations partner with ISEA to develop environmental stewards and leaders to care for the Great Lakes.  The addition of Alliance increases the number of partnerships around the Great Lakes Basin that can be served during the 2023 sailing season and for years to come. 
From Inland Seas Executive Director Fred Sitkins, "Collaboration is at the center of all that we do with strong partnerships developed throughout the Great Lakes. Alliance is the perfect ship to allow us to seize the opportunity these partnerships present for us. The fact that the ship already had a name perfectly honoring these partnerships is just a lucky happenstance. Alliance is a safe, perfectly sized, well-cared-for, coast guard-certified vessel. A vessel of this nature is rare and difficult to find and we feel very fortunate that we have been able to secure it for the purpose of protecting the Great Lakes through education."
The schooner Alliance was launched by Treworgy Yachts in 1995, a year after the yard launched the schooner Inland Seas.  Originally named Kathryn B., she sailed as part of a windjammer fleet in Maine. She was purchased in 2005, rechristened the Alliance, and has been a charter and day sailing vessel out of Yorktown, Virginia before ISEA's ownership.
The Alliance will begin the journey back to Suttons Bay in early May. There will be a free public arrival celebration on June 24th as Alliance is escorted into Suttons Bay by Inland Seas.
To learn more about the schooner Alliance, contact Fred Sitkins at fsitkins@schoolship.org.