In addition to our science sails, Inland Seas offers two-hour specialty sails. Guests aboard these sails experience the joy of being on the water with family and friends as they appreciate the Great Lakes.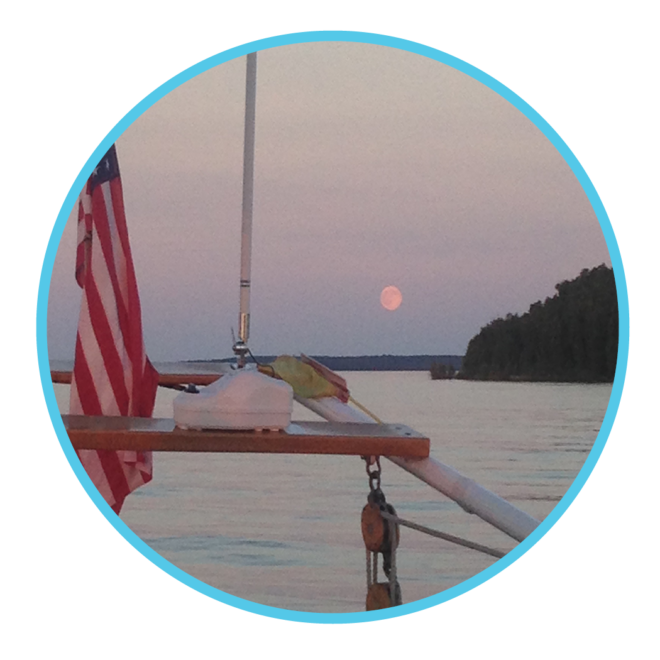 Night Sail
The open water is an ideal place to experience the brilliance of the Northern Michigan dark sky, and there is no more informative place to view them than from the deck of our schooner. On this two-hour sailing experience you'll be joined on your sail by a local astronomer who will orient you to the vastness of the night sky, point out constellations, and share extensive knowledge of galaxies, stars, observational astronomy, and history.
Come with all of your questions and prepare to be amazed. Please also come prepared for cooler temperatures as an evening on the water can be quite a bit cooler than on land. This program is most appropriate for teenage and adult learners, however, you're welcome to bring younger learners aboard.
Fall Sail
Enjoy the beautiful fall season from the deck of the 77′ schooner Inland Seas as she sails around Suttons Bay. Fall is a relaxing season in northern Michigan as temperatures are comfortable and traffic is light. On this two-hour sailing adventure you'll feel the crisp fall air on your face and observe the beautiful lanscape.
You'll even have the opportunity to play the part of schooner sailor as you help raise the anchor, hoist the sails, and steer the ship. Or just sit back, relax, and enjoy the ride. Crew and staff will be available to answer your questions and provide schooner yarns (stories) when requested.
This program is appropriate for people of all ages, so bring along your family and friends and we're sure everyone will learn something new and feel more connected to the Great Lakes. Make sure you wear extra layers as fall on the water can be chilly.