In 2017, I had just finished my freshman year at the University of Michigan with an undecided major and was wrapping up a summer at U of M's Biological Station in Pellston. An extension of my Limnology course at the Biostation brought me to Inland Seas. As we set sail on a three-day journey from Petoskey to Traverse City, I felt a spark within me. While I was already accustomed to the science equipment, data collection procedures, and living closely with my classmates, doing it all on a schooner was new and exciting!
I remember leaving the ship feeling like I had accomplished something meaningful. 
As a scientist, I helped contribute to the knowledge we have about the Great Lakes. We collected real, novel data! I fell in love with field-based aquatic science onboard Inland Seas and ended up dedicating the remainder of my formal education to that. However, when I look back on that trip, the memories that stand out the most are centered around life on the ship. My main takeaway was thinking "How do I get back on that boat?"
As luck would have it, I found my way back in the spring of 2022 as an intern. As the "deducator" (deckhand/educator), I split my time on the ship serving as a science instructor and a member of the deck crew. By participating in both the science programming and the ship operations, I gained a deep understanding and appreciation for what ISEA accomplishes on each sail. When you board Inland Seas, you're presented with the opportunity to become three things: a scientist, a sailor, and a steward. As I reflect on my time as an intern, I realize I've grown immensely in each of these roles.
Scientist
Through the schoolship program, I've discovered I have a new favorite step in the scientific method. Before this summer, my favorite part of doing science had always been the methodology of designing a study to test a hypothesis. In my background, this usually meant examining a facet of an ecological problem and deciding which fancy statistical testing was appropriate. For me, this was a fun matching game. However, after spending years doing science at R1 universities, I had forgotten that science can be explorative. There doesn't always have to be a problem to solve; sometimes the reason for exploration can simply be fun.
As a science instructor on the schoolship, I observed just that. I saw students become enthralled in digging through seaweed and muck at the benthos station. I heard the woahhh's and the look at that!'s and the oh my gosh, it's moving!! down below at the plankton microscope. Taking in the students' excitement, I was reminded of the foundation of science- observation. And I realized that all of this excitement was a byproduct of getting curious about what's in the Great Lakes- which, looking back, is the reason I have a science degree, and is the reason I'm working here today.
Outside of my science observations, I've gotten to see some pretty amazing sights over the course of the season. During our transit across Lake Superior, from Two Harbors to Suttons Bay, I was pleasantly greeted by the northern lights as I came up on watch. Sunrises and sunsets on the water just can't be beaten.
Throughout our travels across the Great Lakes, I got pretty familiar with the commercial ship traffic. We would often see the same ships going to and from the same ports that we were visiting. One of the first ships I recognized was Sam Laud, a black-hulled lake freighter. For whatever reason, I developed a favoritism for this ship and loved spotting it throughout the summer. After a transit down to Detroit in October, it felt like a gift coming up on deck and seeing none other than Sam Laud anchored right next to us. Thanks to our magic media man, Harrison, I have this moment captured!
Sailor
When I joined ISEA I had no sailing experience, and Inland Seas was the only sailboat I'd ever been on. After a season with Inland Seas, those things are no longer true. Having now spent over a hundred days sailing as a crew member, I've gotten a taste of life at sea.
Limiting your belongings to a bag that fits on your bunk (with you in it), and always being conscious of the limited resources you have on a daily basis, allowed me to realize that I really don't need much to be comfortable and happy in life.
The amount of technical skills I've gained in one season totally surpasses what I thought I would learn. From oil changes to deck pumps, to head (marine toilet) plumbing- I'm so grateful to have had the opportunity to literally get my hands dirty. I've realized being a sailor is so much more than being able to handle a ship. After all, when you're out on the water you can't just call a plumber or whoever to fix the problems that arise. You have to be able to understand your ship's systems so you can fix them yourself. In order to do that, you've got to be willing to wear the hat of an electrician, plumber, carpenter, and engineer. The actual sailing of the vessel is just one small part of knowing what it is to be a sailor.
While I can say I've grown immensely in my knowledge of line handling, knots, and sail theory, I'm really more impressed with what I've learned about myself. Working at Inland Seas has taught me to be curious, and has allowed me to feel empowered to seek out answers. Never in my life have I ever asked so many questions! The diverse community you interact with on Inland Seas is a sea of knowledge, and I'm so happy they've let me jump in to learn.
Steward
Oftentimes when we think of what it means to be a steward, we think about the power of our individual actions. When I began as an intern, I made a stewardship goal to encourage students (and myself) to think of other ways to be a steward besides leading by example. I wanted to remind kids and myself that stewardship doesn't have to mean individually solving all the problems.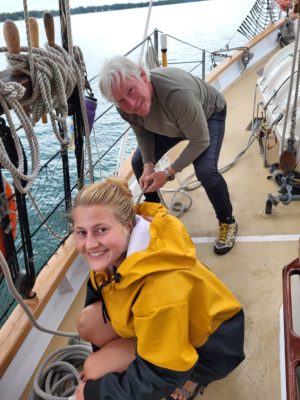 My intention was to make students feel confident in their connections to the Great Lakes. At the time, I thought it was most important for future stewards to make a person-to-environment connection e.g. have a fun time holding a fish, pulling on a halyard, hearing the waves, etc. All of which is a huge part of what we do at ISEA. However, I hadn't thought about the importance of person-to-person connections within an environment. When I think of my connections to the water– the things that make me a steward– I think of fishing with my dad. I think of rolling down sand dunes with my friends. I think about my first trip on Inland Seas, and now my first sailing season. None of those good memories would exist without my connection to others.  
Throughout the summer, I've had the opportunity to connect with hundreds (maybe even thousands) of people. Now when I think of Inland Seas, I think of so much more than 5 Great Lakes. When you see a volunteer lead a group of strangers to sweat a halyard on a public day sail, or an instructor trusts a group of students with professional science equipment, or an enthusiastic 5th grader driving the boat, you realize we're all one big crew making this program work. Through what I thought was just a summer internship, I've gained so much more. Proudly, I'm part of an intergenerational community dedicated to the Great Lakes.
I used to think Great Lakes' stewardship started with the lake. In creating the next generation of Great Lakes stewards, the lakes do a lot of the work for us (being as Great as they are) but what really makes the mission of Inland Seas successful is the people involved. 
Reflecting on the season as a whole, I think being a better Great Lakes scientist, a better sailor, and a better steward is really quite simple. Spend some time on the water, and share that joy with others.