When you bring your class onboard the schooner, your students will gain unique insight into the basic ecology of the Great Lakes. Students become scientists for the day and assist seasoned volunteer instructors with the collection and analysis of Great Lakes samples, including fish, plankton, and organisms that live along the bottom (benthos). This hands-on experience increases awareness of the Great Lakes and the development of stewards.
Next Gen Schoolship Program
While all of our programs emphasize the power of small-group learning, the Next Gen Schoolship Program takes it to the next level. Students work in teams to collect creatures and water samples from the lake, then teach each other what they learned in an upbeat, low-stakes round robin. Hands-on learning stations explore fish, plankton, the bottom of the lake, and water quality. In addition, teams of students raise the sails and haul up the anchor so we can sail the Bay throughout the program.
Lake samples collected in a small groups with station instructors
Students teach each other how to collect samples
Every student participates in all ecology stations: fish, plankton, benthos, water quality
Choose a Microplastics or Seamanship station to customize the experience

Microplastics: Microplastics are tiny pieces of plastic found in all our waterways and in the Great Lakes food web.

Students get involved in an ongoing Great Lakes research project conducted by Dr. Sheri Mason, by using a manta trawl to tow the Bay and examining the sample for microplastics.
Each small group helps with a different part of the sample collection and processing.
Students work out solutions for keeping plastics out of our waterways, and most get to steer the ship.
Best for groups wanting to do more with Great Lakes science, and who want to connect personal action with Great Lakes health.

Seamanship: Our tall ship schooner is the perfect place to explore the physics of how boats work.

Students learn why some things float and other things sink (buoyancy), how a keel and ballast provide stability, and how rudders work.
We discuss the importance of Great Lakes shipping and the roles of ships and boaters in protecting Great Lakes health.
All students get to steer the ship.
Best for groups wanting hands-on experiences with physics concepts, and who want to connect Great Lakes shipping with economic and environmental well being of the Great Lakes.

Stewardship discussion at program end
Best for groups who want a fun and introductory experience with the Great Lakes, plus a leadership experience for students, since students will be the teacher for part of the program.
ISEA's Next Gen Schoolship program is a half-day science learning adventure aboard ISEA's 77′ schooner Inland Seas or the chartered 112′ schooner Manitou. It is designed for students from 4th–12th grade. The curriculum can be easily modified for the knowledge of the students onboard. The onboard curriculum is designed to complement the Michigan Curriculum Framework Science Benchmarks in physical, biological, and earth sciences, as well as history and geography.
Diving Deeper Schoolship Program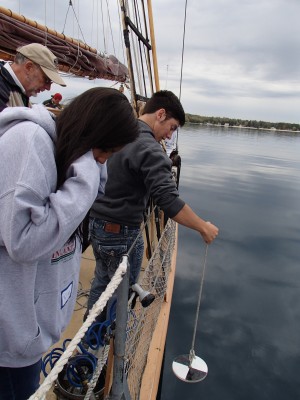 This program is for the high school student who has a sense of what the Great Lakes are and what they mean, and is ready to go deeper. Students in this program will collaborate to answer research questions using professional limnology equipment and historical Schoolship data. Each student team will focus on different research topics and will thus gain competence in sampling procedures and proficiency in their area of study. Teams will cement understanding by sharing their expertise with each other before leaving the ship. An authentic research experience is at the heart of this program, however, schooner operations continue throughout. Students have the opportunity to work one-on-one with crewmembers to navigate and pilot the vessel, and handle sails and lines.
The Diving Deeper program sets teachers up to do further data analysis and report writing back in the classroom, but can also stand on its own if you are unable to extend the experience. This program can provide to your students meaningful research questions and content exploration, yet is flexible enough to accommodate the particular research questions or experiential learning your students want to explore. Contact us to get the details on how your students can design their own sail.
Students work in small research groups focused on one topic for the whole program.
Original research questions examine the status of Suttons Bay and can be modified to suit student interest.
Students collect multiple samples and make comparisons between them.
Data analysis and comparison to historical records.
Students teach each other about their research and results.
Dedicated time for each group to participate in ship operations, doing things that students don't get to do on the Traditional and Next-Gen programs.
Stewardship discussion at program end.
Best for groups looking for an authentic research experience.
Schoolship Program Details
All Schoolship curriculum complements the Michigan Science Standards and can be easily modified for students in grades 4-12.
Length: 3.5 hours
School fee: $825 (Thanks to the generous support of our individual donors and foundations who subsidized the remaining cost.)
Size of group: 32-35 students/adults
Spring Season: May through Mid-June
Summer Season: Late-June through August
Fall Season: September through Mid-October
Morning session:* Arrive at 8:30 a.m. and return at 12:30 p.m
Afternoon session:* Arrive at 1:15 p.m. and return at 5:15 p.m
*Note: Summer season programs have more flexibility in program timing than the spring and fall seasons. Please contact ISEA for summer program time options.
---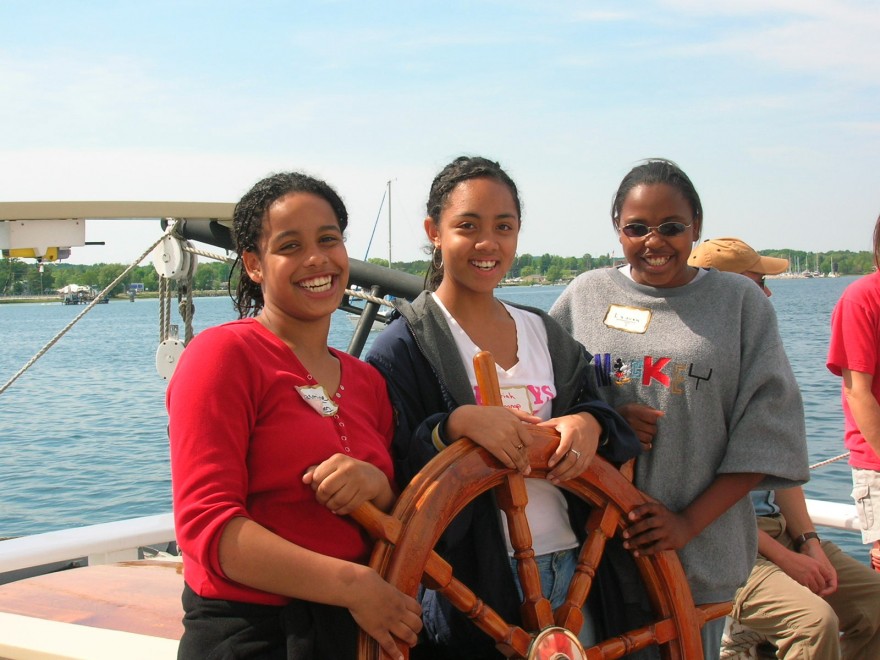 "As my students go on to become all kinds of professionals—physicians and lawyers and engineers and business people, etc.—they take with them the feeling of how precious the Great Lakes are, and a sense of personal ownership in protecting the great lakes."

Past Teacher Participant
"I have had two students go on to gain advanced degrees in water-related science areas. One has her master's degree and works for NPR. The other has his doctorate in environmental toxicology and works for the EPA. Both attribute their work today to the things we did in our high school limno class like sailing!"

Past Teacher Participant