Remote Operated Vehicle Program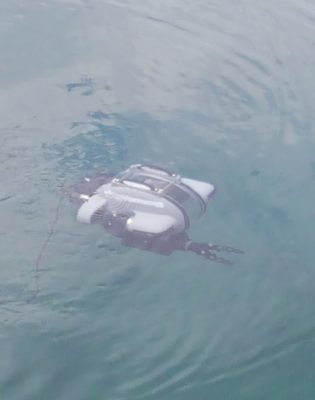 Challenge your group to explore Grand Traverse Bay and the world of Remote Operated Vehicles (ROVs) with Inland Seas' new underwater challenge course. This 2.5 hour program allows students to operate a state-of-the-art ROV through a challenge course designed to replicate challenges faced in industry; from environmental research to oil & gas exploration. Students will explore and experience the technology shaping research and industry in the Great Lakes and beyond through this investigative hands-on learning environment.
The program begins with a short orientation to ROVs and how they are used. After being introduced to the ISEA ROV and the challenge course, students will be split into two groups. The first group to run the challenge course will be given further instructions and then tasked with underwater challenges that will develop their teamwork, problem solving skills, and understanding of the types of problems ROV operators overcome in their work. The second group will spend their time working through a series of hands-on engineering challenges that develop students' understanding of buoyancy and underwater propulsion. The students then switch roles, allowing everyone to be the pilot, and explore Grand Traverse Bay through our ROV.
Cost for the program: $300
Location of the program: Onboard the schooner Utopia, docked at Discovery Pier
Complete this form to inquire about the program or request a date(s).