You Are a Critical Partner
Teachers tell us how the real-world Schoolship and Watershed Exploration experiences we provide add value to their students' classroom learning. We see the awe, excitement, and "aha moments" on students' faces that confirm this in every program. Learn more about our school programs.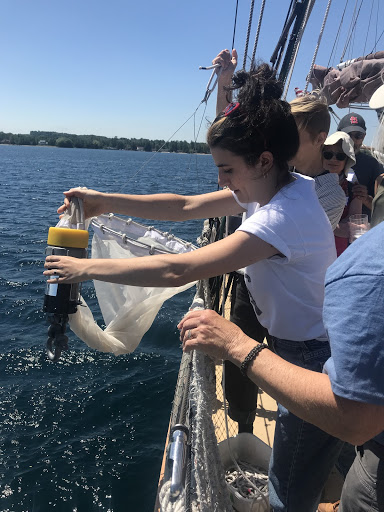 In 2022, we will deliver 100 Schoolship programs and 50 land-based, watershed programs. Donors provide one-third of program costs and as the demand for ISEA programs continues to increase, so does the support needed. Please help us reach our Spring Programming goal of $97,500. We are 75% there as of July 5, 2022! (Thank you to two long-time donors who matched donations of $150 or more for an additional $20,000.) Give today and increase the number of stewards for the Great Lakes!
Over the past 32 years, generous supporters of ISEA have allowed us to reach 155,000 advocates for the Great Lakes through educational programming. Your support will create more opportunities for teacher feedback like this:
"It was a great way to tie together all of the information that students have been learning throughout the school year."
"I loved that we were able to have both outdoor and indoor experiences and didn't need to have a ton of background knowledge to get a lot out of the program."
"Overall, I'm really impressed with the programming offered by ISEA! I'm looking forward to continuing to bring students year after year."
You make these experiences possible! Please help us reach our 2022 school program goal by donating today.