Thursday, March 12, 2020 from 3:30 – 6:30 pm
Capt. Thomas M. Kelly Biological Station
100 Dame Street, Suttons Bay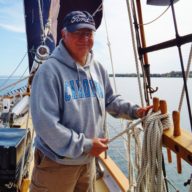 Join us to greet new volunteers and reconnect with current ones. If you are already a volunteer, bring a friend that has thought about volunteering! The open house event is for everyone: new, prospective, and returning volunteers.
Enjoy informal conversations as you explore stations set up throughout our building to showcase opportunities for volunteering such as shipboard activities, boat shop projects, curriculum support, and more. Each station will have an opportunity to "play" with sampling devices or other hands-on components. 
 We will have light refreshments and you are welcome to stop by at any time!
We'd love to see you there!