Thursday, March 10, 2022, from 4:30-6:30 pm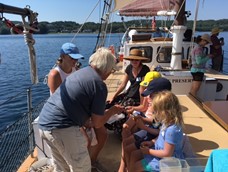 Volunteers are the lifeblood of ISEA. The impact our Great Lakes educational programs have on youth is a testament to their passion and commitment. No experience is necessary to volunteer with ISEA, just a love for the Great Lakes and learning, and a desire to share that knowledge.
At our 2022 Volunteer Open House, you can meet new volunteers and reconnect with current ones. If you are already an ISEA volunteer, encourage a friend that has thought about volunteering to participate! The open house event is for everyone: new, prospective, and returning volunteers.
We will discuss volunteer roles (with an emphasis on Instructor and Crew positions), Spring training schedule, and Spring and Summer Seasons. Please let us know if you can make it!