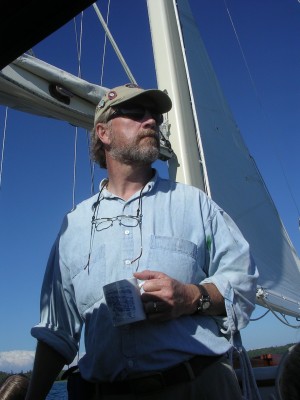 Remembering and Continuing
the Legacy of Tom Kelly

All who knew Tom Kelly are invited to participate in a special tribute to the ISEA founder on Saturday, September 10, 2016. The event will take place at the Inland Seas Education Association property, 100 Dame Street, Suttons Bay. Parking is available at the Suttons Bay High School. A shuttle bus will bring guests to/from the event.
2:00 pm – We will be gathering for a wonderful tribute to not only the legacy that Tom left behind, but the legacy that will continue long into the future. As we honor Tom, we are looking forward to sharing how his vision is moving Inland Seas forward. I would encourage all friends of Inland Seas to participate in this portion of the event. We will meet rain or shine. A tent and seating will be provided as this event will occur in the parking lot of Inland Sea.
3:00 pm – Everyone will be encouraged to make their way to the schooner dock or out on the waters of Suttons Bay near the schooner dock to take part in a special interactive event that will symbolize Tom's legacy and our role in continuing it into the future. Please join us on shore, in your kayak/canoe, on your paddle board, or on your boat. This will be an experience you will never forget.
Following this tribute, the schooner Inland Seas will be heading to Power Island to participate in a traditional gam. The term gam, comes from the traditional name for a meeting of whaling ships at sea. Whaling ships often spent years at sea, and when sighting another whaling ship, two whaling ships would come alongside to exchange information and have some conversation between the crews. A whaler's gam was a chance for some socialization and news from home. Many mariners today refer to a gam as a collection of boats at an anchorage where spontaneous socialization occurs. This is the type of event Tom Kelly loved! As a result, it seems like a very fitting tribute to invite any vessels willing to a rendezvous on the hook at Power Island to join us. While nothing formal other than this destination and specific date is being planned, we are confident that something beautiful will result from this meeting of ships, conversations between crews, and socialization.
Please post and share this flyer with others.