Capt. Thomas M. Kelly Biological Station Grand Opening
and ISEA 30-Year Anniversary Celebration
Friday, June 21, 2019
4:00-7:00 pm
100 Dame Street, Suttons Bay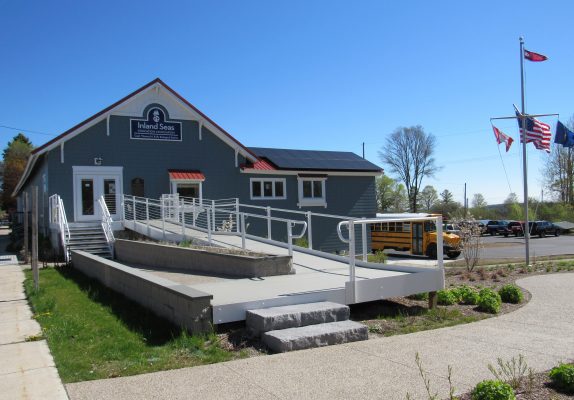 The Grand Opening Schedule
Join us outside and under the tent at 4:00 pm for social time. Pick up a program/map, listen to Song of the Lakes, walk around the grounds, make a s'more, purchase your canoe raffle tickets, and pick your seat. Executive Director Fred Sitkins will give a formal presentation at 4:30 pm in the tent. He will talk about our work, provide some 30-year milestones, and share what this renovation will allow ISEA to do in the next 30 years. Ribbon cutting will take place around 5:00 pm. The Capt. Thomas M. Kelly Biological Station will be opened for self-guided tours after the ribbon cutting ceremony and Song of the Lakes will continue to play. Attendees are encouraged to walk through the newly renovated facility and learn about ISEA's 30-year history that will be showcased in each room. During this time, there will also be hands-on science activities in the lab for attendees of all ages, and a Beach Trash Art Exhibit upstairs.
30-Year Anniversary Celebration
We have so much to celebrate. Considering 30% of businesses/organizations close within their first 10 years, to suvive 30 years is quite an accomplishment! Celebrate with us as you tour the renovated facility. In adition to the main recreation/sitting room's 30-year History-in-Pictures slideshow, each room will feature an important piece of ISEA's history. Volunteers and staff will be available throughout the building to answer questions.
Inspiring Curiosity, Stewardship, and Passion – As true to our mission, a group of volunteers will be in the lab inspiring curiosity for the Great Lakes through hands-on science activities for attendees of all ages.
Our Reach – This room will share maps and data of the number of ISEA participants and donors and where they come from.
People Who Make It Happen – It takes a village and the ISEA family is ours. Board members, volunteers, staff, and donors will be showcased in this room.
Where the Impact Occurs – Come to this room to learn about the various ships and facilities the organization has used over the years to carry out our mission.
Success Stories – How do we know when we're accomplishing our mission? People tell us! In this room, past students, teachers, and interns share their stories about how ISEA has inspired them in their careers.
The Science – Visit this room to view our 30 years of science data, a discovery we made, and the organizations we partner with.
Future Vision – What does the future hold for ISEA's next 30 years? In this room, add your ideas to how ISEA can expand our reach and create deeper Great Lakes learning experiences for individuals over the next 30 years or more.
Our 30-year history is the result of ISEA boards who have valued a strategic vision and plan, volunteers who have worked tirelessly to inspire people to be Great Lakes stewards, financial donors who have believed in our mission and trusted us to be good stewards of their resourses, and staff who have taken on every challenge presented to them. Thank you for all you have done and continue to do for ISEA and the Great Lakes.