ISEA Cafe is a monthly gathering of the ISEA community to stay in touch and grow our connection to the Great Lakes. ISEA will provide hot drinks for all, and sometimes a snack. Feel free to bring a snack to share too.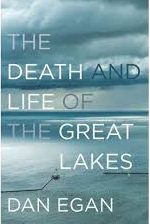 This year we will be reading the book Death and Life of the Great Lakes, by Dan Eagan. Many of you have this book, but if you need to borrow a copy, Inland Seas has some to loan.
We are reading it slowly because there is so much in each chapter. You do NOT need to read the book to come to the Cafe or to participate in the conversation. We may also watch short films that compliment the reading. Feel free to bring other articles or news related to the Great Lakes that you want to discuss. Or suggest short films that we can watch together.
Here is the plan:
We will meet in the Education Center of the Inland Seas Capt. Thomas M. Kelly Biological Station (100 Dame St, Suttons Bay, MI) from 1:00-3:00 pm on each of the following dates.
November 6, 2018 = Intro, Chapters 1-2 = St Lawrence Seaway + Lake Trout, Sea Lamprey, Alewives
December 11, 2018 = Chapters 3-4 = Introduction of Salmon + Ballast Water, Zebra Mussels
January 8, 2019 = Chapters 5-7 = Carp, Chicago River + Mussels invading the US West + Toxic Algae in Lake Erie
February 12, 2019 = Chapters 8-10 = Water diversions + Climate change, Water levels + The future
Please join us if you are in the area and available! There is no cost to participate in the ISEA Cafe.