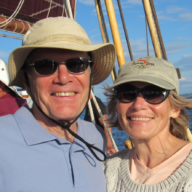 As a donor to Inland Seas you have the option to choose membership. Members help to protect the Great Lakes by providing the sustaining resources for educating youth/adults and for carrying out updated, ongoing research and programming. By helping us keep our costs down, we can deliver affordable programs to the communities we serve.
Your membership:
Provides more educational opportunities for school children through sponsorship
Develops new and manages extisting programming
Continues to care for the ISEA Education Center and grounds as well as the schooners Inland Seas and Utopia
All membership levels receive the monthly e-newsletter, an invitation to member sails and events, access to ISEA watercraft, and acknowledgment in the annual report. Memberships are non-voting. See membership levels for additional benefits. 2019-20 memberships expire 4/30/20. Make your donation to Inland Seas by becoming a member today!
Crew Level ($100-$499)
As a Crew Level member, your donation will:
sponsor one student for a half-day Schoolship experience
allow you to purchase two public sail tickets for 50% off
allow you to participate in transit sails (when ISEA sails from one port to another) for free
First Mate Level ($500-$999)
As a First Mate Level member, your donation will:
sponsor one student to participate in a YPIS 3-day, 2-night program
provide you with two complementary tickets for a public sail
allow you to participate in transit sails (when ISEA sails from one port to another) for free
Captain's Circle Level ($1,000+)
As a Captain's Circle Level member, your donation will:
sponsor a class (up to 35 students, teachers, and chaperones) for a half-day Schoolship experience
allow you to participate in transit sails (when ISEA sails from one port to another) for free
provide you the opportunity to have one private tour of Inland Seas for up to 10 people (reservations required)
allow you one free use of the museum space for a private event
give you access to the ISEA Conference Room (reservations required)
receive invitations to special Captain's Circle events