This blog post is based on an interview with long-time Inland Seas volunteer and former board member Harold Lassers.
---
An engineer by trade Harold Lassers spent most of his adult life around the Great Lakes. He lived in Chicago and worked for Bell Laboratories, Juniper Networks, and Cisco Systems. Harold is an avid outdoorsman; enjoying every outdoor recreation season, including biking, canoeing, hiking, and cross-country skiing. In 2012 Harold "flunked" retirement after moving to the Traverse City area but still doing some work from home. Being on the water has been a passion for Harold, preferring to canoe and kayak some of the rivers local to Traverse City. His passion for paddling is what led him to ISEA.
Finding ISEA
Harold was introduced to Inland Seas through the boat-building program. Specifically, making strip canoes with students, a rewarding if not finicky task. After getting to know some of the staff, he initially decided to try volunteering aboard the Inland Seas as a crew member. He then transitioned to instructing and found his knack. Speaking about his time volunteering with ISEA "I took a little bit of crew training, and it was clear that I was better suited to the instruction part. It was more my speed and more fun for me. Eventually, I taught all the stations except fish and became a lead instructor…. Though Water Quality was my favorite station." During his time with ISEA Harold also helped to develop the seamanship station crafting a hands-on visual representation of how buoyancy works that is still in use today. In addition to serving as an instructor, Harold was also a member of the Board of Directors, advocating for ISEA on an organizational level. What struck Harold about ISEA wasn't just the mission, it was that ISEA fostered a strong community of volunteers who cared for their work and enjoyed the people they volunteered with.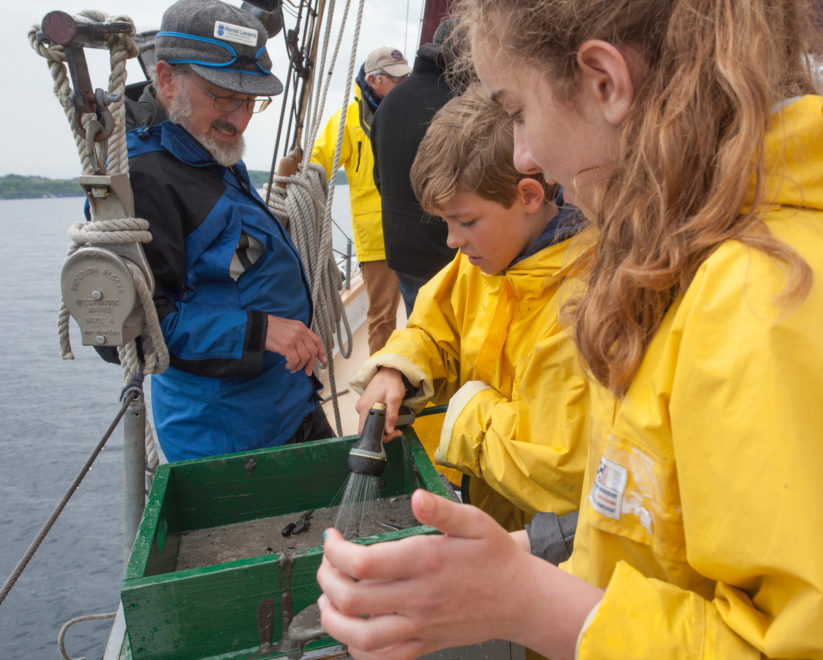 A Community for the Great Lakes
Volunteers are all seeking something a little different when looking for somewhere to give their time. According to Harold " They [volunteers] are looking for a meaningful place to volunteer and one that seems to fit. And if they [Inland Seas] didn't exist, they'd be looking for another place. The other thing, and I think this is the most important thing about Inland Seas from the volunteer perspective, is that Inland Seas creates a community and people who are looking to volunteer, usually are people who want and are seeking a community." A community of volunteers with different backgrounds and passions all coalescing around a shared mission creates an energetic atmosphere that people want to return to. Harold also discussed the off-season ISEA Cafes as a great means for volunteers to stay engaged and connected with the ISEA community.
Inland Seas strives to create a community of volunteers from all backgrounds and walks of life. This community drives the work of ISEA helping to create a positive impact on the Great Lakes for generations to come. If you would like to join the Inland Seas volunteer community contact our volunteer coordinator Rachel Ratliff at rratliff@schoolship.org or 231-271-3077 x106.
---
This blog is based on an interview with Harold Lassers and written by ISEA staff member Harrison Fischer. If you would like to write a blog post please contact marketing@schoolship.org.