From time to time, ISEA will share Great Lakes experiences from guest bloggers. ISEA partnered with the School for Environment and Sustainability at the University of Michigan to research our data set and make recommendations regarding collecting, storing, and sharing so that it will be useful to external stakeholders. In this blog, the U of M graduate students share their research and recommendations. Email marketing@schoolship.org if you would like to submit a Great Lakes experience to be featured.
---
Where does ISEA's data go? This was the question which we set out to discover, along with how this data may help create more impact for ISEA's programs.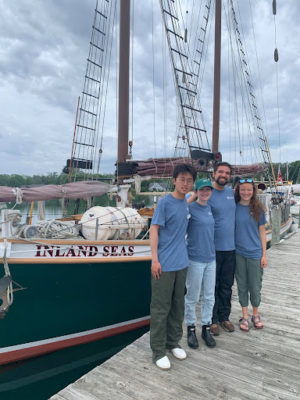 As a graduate student research team from the School for Environment and Sustainability at the University of Michigan, we formed our partnership with Inland Seas Education Association through our Master's project where students collaborate with clients to solve real-world problems using the skills and knowledge we learned from school. The project started around January 2021 and we finally met face-to-face in Suttons bay in May to conduct observational research on board the Inland Seas. We have continued our research remotely since the summer and are currently synthesizing conclusions for the final report which will be available in May 2022.
ISEA has been collecting limnological and biological data of the Great Lakes since 1989 by having the public and students serve as citizen scientists led by trained volunteer instructors. They are the only organization in the area that has a consistent dataset covering this lengthy timespan, thus there is immense potential in this dataset for both ISEA and other audiences. However, ISEA's data are not currently accessible to any end users – they are stored across databases in different formats, siloed to internal use, and unable to reach their full potential. Therefore, we set our goals to provide ISEA with justified recommendations to streamline: (1) data collection and recording based on a defined monitoring strategy that suits program goals and will serve into the future; and (2) data digitization, management, and sharing to satisfy the needs and interests of potential end users.
So how does someone tackle these issues? We first devised a list of research questions to better direct our approach and then set out our project plans. Throughout our 2-month stay at ISEA, we formed observation pairs and observed on board the Inland Seas during 30 Schoolship programs and 12 public programs of varying topics. We conducted 14 interviews with volunteers who collect data and instruct in ISEA's programs and three more interviews with volunteers who have prior experience or interest in data management from a logistics perspective. We made sure to capture our thoughts in observation memos, which are notes taken during observation sessions, and transcripts from interviews were all analyzed for important themes and information. We also conducted informal meetings to probe their insights on ISEA's long-term monitoring and data management strategies. In total, we conducted 13 informal meetings including five meetings with potential data users, four meetings with environmental educators, two meetings with citizen science experts, one meeting with a database expert, plus a series of sessions with the data entry volunteer at ISEA. We also implemented an online questionnaire to investigate if schoolteachers are interested in using ISEA's data beyond the one-day shipboard experience and how they would use these datasets. 43 teachers responded to our questionnaire and we were then able to gain useful insights from their responses.
So what did we find? Our preliminary results show that even though ISEA prioritizes student learning experience over data collection, the data collected still show promising standards. These data are especially useful as they add value to ISEA's educational program by providing charts that facilitate onboard STEM education and effectively draw attention from learners of all ages. Among these charts, we found charts and data that show changes and trends to be particularly useful, such as the secchi depth trend over 30 years and the fish pie charts. Based on our findings we have several recommendations, though you will have to read our full report to see them all:
ISEA should establish consistent protocols to document certain incidents like finding new species or having secchi disc going under the boat

ISEA should form a system to mark data which is compromised or missing on the data sheet to reduce complications when inputting data digitally

ISEA should develop a QAPP, or a Quality Assurance Project Plan, which informs external users about the quality of collected data

ISEA should share the datasets with teachers and the public as web-based summaries showing key benchmarks and trends, with the option to request raw datasets

A new database management system should be established which is flexible, easy to input data, and easy to query or make visualizations

Options for a database management system include MS Access, MS Excel, and FieldScope, which is a citizen science platform that allows ISEA to digitize, visualize, and share data with external users
You can reach our team by sending an email to iseas2022@umich.edu if you have any questions or suggestions.
---
Brianna Ellis, Cecelia Batterbee, Connor Roessler, and Xiao Qin are a team of four graduate students with very diverse backgrounds from the School for Environment and Sustainability at the University of Michigan. We have professional interests covering different disciplines including ecosystem science and management, geospatial data sciences, and environmental education. Through our collaboration, we hope to help ISEA to reach its full potential with its data. Cecelia is from Michigan, Xiao from China, Connor, and Brianna are from the East Coast.