From time to time, ISEA will share Great Lakes experiences from guest bloggers. In this blog, volunteer and board member Thom Yocum looks back on his 20 years of volunteering and shares a few highlights. Email marketing@schoolship.org if you would like to submit a Great Lakes experience to be featured.
---
I have had the privilege of volunteering with the Inland Seas organization for twenty years. I am a retired biology teacher who longed to continue to work with youth in order to add to their knowledge of the biological world in which we live. I have found much more than I imagined.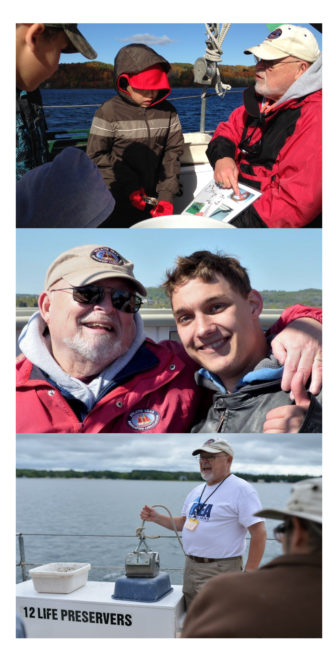 My biological knowledge increased as I kept up with developments in the Great Lakes and I was excited to see how eagerly these youngsters absorbed the lessons learned on-board and ashore through the efforts of hundreds of volunteers from all walks of life. My scientific bent was helpful to me but I quickly found that the main factor in teaching here was simply a love for the jewels we call the Great Lakes and a desire to pass this love on to the following generations. The biota we encounter on our trips are thrilling to many, but we also instill in them a love for sailing and the enjoyment of being on the water in ways that most would not encounter otherwise.
Our trips, whether in spring, summer or fall, bring volunteers in contact with people of all ages and regions. I remember vividly several three-year-olds who couldn't stay away from the benthos mud and sand as they delicately removed midge larvae, amphipods, and algae from the samples and marveled at their delicate but resilient bodies. Their mothers were pleasantly surprised by their enthusiasm. I have also encountered senior citizens who have great information to pass along to the younger sailors regarding the Great Lakes history from many angles and insights.
Perhaps one of the most exciting aspects of volunteering with ISEA is the depth and breadth of the people we bring aboard each year, mainly in the summer. I have spoken with visitors from South Africa, France, Germany, and many other European countries. Some are amazed at the breadth of Lake Michigan but others have already learned of the significance of the Great Lakes waters. I have learned much from a few who come prepared to share their knowledge of freshwater systems with me. There certainly are visitors from many of our own states as well. All in all, the conversations I have noted during my sailing years here are truly memorable. There are just too many to elaborate upon. But, I must relate the trip with students from Flint. These were middle schoolers, most of whom had not left the city at all. They were awe-struck at the size of our vessel, the size of the bay, and the fact that they were not struck with sea-sickness! Despite their lack of geographical experience, they dove into each station and were eager to learn all they could. The outpouring of thanks when they returned home was profound and I learned how much some of us, even in Michigan, take for granted.
I hope some of you will see your own new reflections by sailing our Great Lakes on the S/V Inland Seas!
---
Thom Yocum earned his B.S., M.A.T., and Science Specialist degrees from Michigan State University. He taught science, mostly biology, for 34 years. His first encounter with Inland Seas Education Association was when he heard Tom Kelly speak at the Michigan Science Teachers Association's conference in Lansing. After retiring and moving north, Thom started volunteering with ISEA in 2002 and eventually joined the board. He continues to have fun volunteering on the Schoolship. More information about volunteering with Inland Seas Education Association can be found at schoolship.org/volunteer.