Schooner Society members, Bob and Nancy Doughty, support Inland Seas Education Association (ISEA) because of their love for the water and the programs that ISEA provides to children and youth. What began with a conversation in 2002 has become a long-time partnership in stewarding the Great Lakes.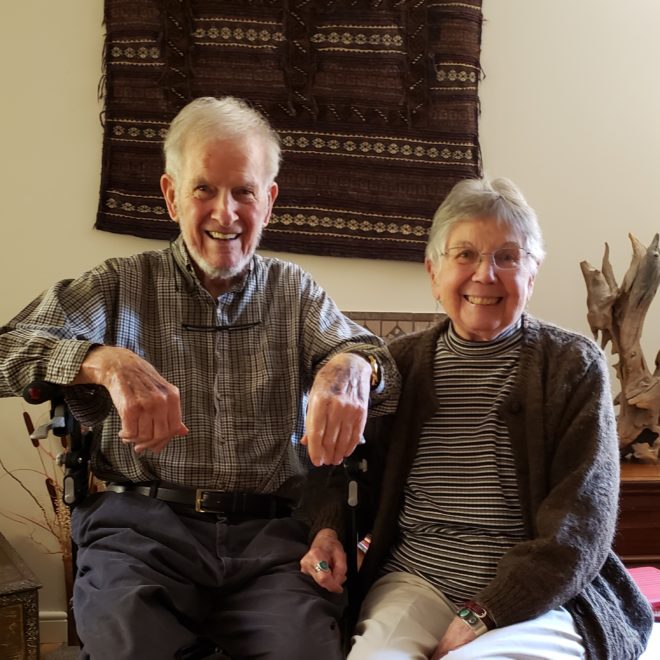 Bob began sailing in southeast Michigan on Lake St. Clair and Kent Lake in the 1970s. He learned to sail and taught sailing through the American Youth Hostel. Between 1971 and 2010, the Doughty's owned a series of sailboats; a Ford 20 boat named "Chicken of the Sea," a 22' Chrysler, and a 25' O'Day. They chose trailerable boats so they could sail each summer in the North Channel or on the north side of Lake Huron and Lake Michigan without all the time it would take to sail there from Detroit. Nancy was a very enthusiastic First Mate. Their daughter, Anne, also loved sailing and would take off on her own in a sailing dinghy once they anchored.
Instilling that same excitement for the water is important to Nancy. She is concerned about the next generation of Great Lakes stewards and believes ISEA is making an impact to teach them. "I was attracted to Inland Seas because of the programs that teach children about the water and what's in the water by getting them on the water," she shared.
Bob retired from an engineering career at Chrysler in 1992 and Nancy retired from ministry at a Unitarian Universalist Church in Troy, MI, a suburb of Detroit in 1995. In 1998, after living in Detroit for 32 years, the Doughty's moved to Traverse City. During early retirement in northern Michigan, Nancy embarked on her new hobby of basketmaking using materials of nature she collected around this area. Bob volunteered for a couple of years on a renovation project at the Music House in Acme. Because of his interest in small boats, he talked with ISEA Founder Tom Kelly as well as individuals from the Maritime Heritage Alliance and Traverse Area Community Sailing in search of a new activity once that project ended. It was from these conversations that he and Nancy became financial supporters of ISEA. 
Shortly after completing the Music House project, Bob began building model sailboats and lighthouses, many of which have been donated to ISEA. His first built model, completed in 2003, was the Bluenose, a fishing and racing gaff rig schooner from Nova Scotia, Canada. This boat is on display at their house and will eventually be donated to ISEA. Bob has also completed a couple of lighthouses, Peggy's Cove Lighthouse which has been donated to ISEA and the Lake Superior Grand Island East Channel Lighthouse near Munising, which he donated to the Alger County Historical Society and Heritage Center in 2015. While a few of his models have been from kits, Bob made some from scratch, like his last model of the Brendan. (Saint Brendan supposedly sailed from western Ireland to Newfoundland with 17 men in a 36-foot boat with a hull of oxhides in the sixth century.)
In their estate planning, Bob and Nancy decided to donate their IRAs to charitable organizations upon their deaths. When tax laws changed, they realized they could begin distributing these funds now through a Qualified Charitable Distribution (QCD). By using the QCD, they are able to be involved in ISEA projects and see how their support is helping the organization currently.  Over the years, the Doughty's have watched ISEA grow in the number of programs offered and people being reached with the message of stewarding the Great Lakes. "Our Great Lakes are precious," shared Nancy Doughty. "The more people that understand that the more the next generation will take care of them."
---
This blog was written by Lisa Sitkins, Marketing Consultant for Inland Seas Education Association.