Ten weeks have flown by, meaning my time as the ISEA Marketing and Communications Intern has come to an end. After every ISEA program, the lead instructor asks if anyone did or saw anything new. Well, this is me raising my hand.
Throughout the summer, I achieved all the goals I submitted when I accepted this role. I was able to run the Instagram account and contribute to the organization's Facebook page to gain experience in social media management from a business perspective. Through weekly blog posts, I was able to tell the stories of volunteers, partners, and participants, as well as author more informative pieces about strategy and data collection. Lastly, I wanted to expand my own knowledge of the Great Lakes. Through observing programs, this occurred naturally, and I am still awed and fascinated by my favorite station, the plankton. I enjoyed photographing this process with participants and capturing the smiles and wide-eyed expressions of people learning or experiencing something for the first time.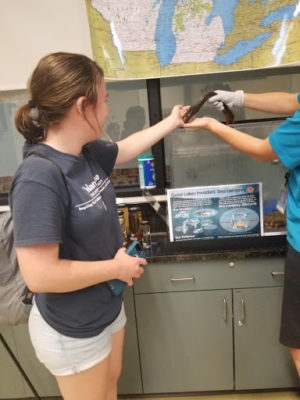 Beyond these pre-established goals, I accumulated knowledge and experiences that I never would have imagined. I had the opportunity to experience the lakes in a completely new way by sailing a 77-foot schooner across them. Coming into the internship, I had a vague idea that my July schedule would include sailing on the ship, but I did not truly understand everything that would entail. Becoming a member of the crew allowed me to better understand all the work that goes into operating a vessel of that nature. While this may seem very far outside of the marketing realm, becoming fully immersed in each transit allowed me to gain the experience and insights necessary to accurately communicate ISEA's programs through blogs and social media posts. Each day of the three weeks I was on board challenged me to step outside of my comfort zone, and I am grateful for each and every moment. A special thanks to Julianna, ISEA's volunteer coordinator, for encouraging me to get over my fears and allow a sea lamprey to attach to my hand while visiting the DNR Outdoor Adventure Center in Detroit.
While I had formed relationships with staff and volunteers prior to sailing on the ship, participating in the transits really helped to solidify those relationships, as well as allow countless opportunities to form new connections. There's something about spending a week on a ship with the same people that really helps expedite friendships. When I disembarked at the Soo Locks, it was truly a movie moment; as the ship sailed away and I waved from land, I heard shouts like, "I miss you already" and "Break a leg kiddo." The people around me would not have guessed that I met them less than a week before. Each week brought new crew members of a wide range of ages and backgrounds. As a senior in college, I greatly appreciate all of the life stories and wisdom that was shared with me by people who have experienced far more of life than I have.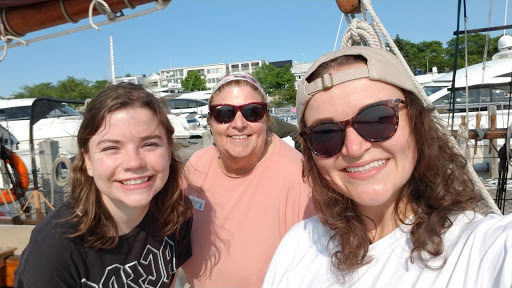 All of my collective experiences allowed me a glimpse into the management of a nonprofit organization, especially how an organization requires support from so many different sources. It was truly special to see the many ways in which the community rallies around Inland Seas. For example, ISEA needed new lawn maintenance equipment and received a donation the next day. On transits, the work is exciting but also exhausting with long days. The fact that volunteers come out every year to do this really tells you something.
As a marketing and fashion retail student, I had always pictured myself working for a large billion-dollar corporation, but through this internship, I was able to discover the perks of working at a small non-profit. I have never worked for a company where people seem genuinely happy to come to work each day and always seem to leave fulfilled. That speaks to the positive effects of company culture and a strong adhesion to core values. Working for a smaller company is rewarding as you see your work making a true impact and feel like your contribution will not be lost in a sea of coworkers who have the exact same role.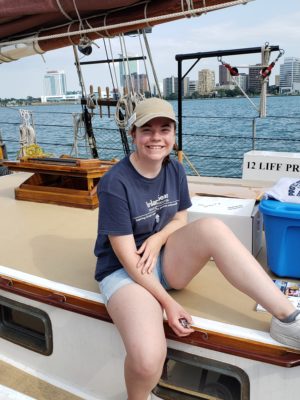 Now, this isn't to say that the internship didn't come with challenges. I never imagined that the hardest part of the summer would be learning how to turn off the windshield wipers in the company van. The first time I drove the van was to Discovery Pier to observe and document an ROV program. On this sunny 88 degree day, I made the entire 25-minute drive with the wipers screeching back and forth on the perfectly dry windshield. As soon as I pulled into the pier, the off mechanism was embarrassingly simple to find. My experience in company vehicles came full circle when I drove the truck back to Suttons Bay from the Soo Locks. An hour into the trip, it started to rain, and I started to panic as once again the levers on either side of the steering wheel looked nothing like they do in my own car. My experience in the van had me ready to pull off on the next exit, but luckily, the truck's wiper system was much easier for me to figure out.
Looking back over these past months, I can clearly identify two lessons that I learned that I will take with me into future positions. A willingness to be flexible and help wherever is needed goes a long way. Don't get trapped within the restraints of a job description. I never would have imagined that by accepting a marketing and communications position that I would learn to haul lines and do boat checks on a 77' schooner. Also, don't be afraid to step outside "the norm." Many of my peers are working at banks, retail stores, and insurance and risk management firms. When I explain my internship, I often get looks of confusion followed by, "You're a business intern… on a ship?" Knowledge and skills are often gained where and when you least expect them.
I am truly grateful for this internship experience, and I feel better prepared for my future after graduation next spring. I want to thank every person I met along the way, and I look forward to visiting the next time I am in the Suttons Bay area.
---
This blog was written by Christina Javorka, 2021 Marketing and Communications Summer Intern for Inland Seas Education Association. Christina is studying marketing and fashion retail at The Ohio State University. Being from the Chicagoland area, Lake Michigan holds a special place in her heart. Her favorite thing about the Great Lakes is finding the treasures hidden within and telling others about them.