Since Inland Seas' founding in 1989, we have had the opportunity to connect over 130,000 people with the Great Lakes. While a large portion of those participants engaged with us in Suttons Bay, our mission is to educate and encourage stewardship across the Great Lakes basin. To bring our programming outside of our home port, we rely on relationships with like-minded people and organizations around the Great Lakes who share our mission and see the value in protecting freshwater systems. These partnerships range from individual champions to large organizations and corporations. 
One such champion is Dan Reelitz who has been volunteering with Inland Seas for 15 years. As a member of the Les Cheneaux Watershed Council, Dan was in a unique position to propose a relationship between the Hessel community and Inland Seas. From this proposition, the schooner Inland Seas made its first visit to Hessel the following year. July marked the seventh year of ISEA programming in this community where individuals enthusiastically open their doors to our crew and instructors. Every year we have almost or completely sold out of public tickets, and this year was no exception. Even the marina proudly displays a framed picture of our schooner in their office!
In addition to Dan and the Les Cheneaux Watershed Council, the Les Cheneaux Community Foundation and the local Lions Club help to make this partnership possible. These organizations subsidize tickets so community members can sail at a discounted rate. As Dan remarks, "There are affluent parts of this community, but there are also non-affluent parts, and we want everyone to get an equal chance of experiencing this program and what Inland Seas has to offer." Our partners in Hessel also work with schools and reach out to parents before publicizing ticket sales to give young students the first chance at reserving spots aboard our sails.  
Over the schooner Inland Seas' 27-year history, our organization has frequented Escanaba as well. Programs similar to those offered in Hessel were delivered in the late 1990s and early 2000s. Maria Maniaci explains how she came to be one of our individual champions in 1995, "Our ISD arranged with Tom Kelly to come to Escanaba, with the help of several sponsors. At the time, I was doing in-classroom presentations of my scuba diving and photography. Since I was already involved with the water, they thought I should be one of the main volunteers! During that week I became a crew member, took the cook for groceries, and made plans to come to Suttons Bay for a week. From then on, I was part of the Inland Seas Escanaba crew!" As Maria explained her history with Inland Seas, her passion and excitement for the program were immediately recognizable. In 2019, the schooner Utopia brought ROV programming to youth in Escanaba.
ISEA is currently working on establishing and strengthening our connections in the southeast part of Michigan. As Executive Director Fred Sitkins explains, "There's a big push to connect people with the environment in urban communities. It's something that has been lacking so we desire to get to larger metropolitan areas like Detroit. Kids just aren't getting outdoors the way they used to and we want to reignite the passion that I think is instilled in everyone in some way."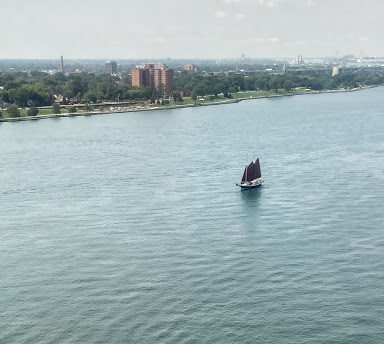 The Detroit River International Wildlife Refuge, a relatively new partner, has been aiding us in this goal since 2019. Already this partnership has proved to be extremely valuable for both parties. This location provides a unique opportunity for Inland Seas as the refuge houses the last mile of the Detroit River, an area that has not been industrialized. Joann Van Aken, executive director of the refuge, explains that chartering our ship allows the refuge to provide a unique, one-of-a-kind experience for their participants due to the nature of our education stations. For many, this may be an opportunity to see plankton or use a microscope, or maybe even sail for the first time. This excitement is mirrored by the refuge volunteers, as Dorothy McClear commented, "Pulling into the parking lot and seeing the masts above the trees is so exciting… it's great to now put to use this space and this dock that we have been working on." 
 ISEA is also working with the Detroit Riverfront Conservancy to bring programming into downtown Detroit. Fred Sitkins comments on this partnership, "The Detroit Riverfront Conservancy is very well respected in that area, and we share the common mission of connecting people to the water." This year the conservancy's generosity allowed us to take two groups of students out on the river as part of a summer enrichment program. One teacher remarked, "A lot of these kids were virtual during the pandemic so this is a chance for them to get out and see people and learn something in a fun way." Due to support from the Detroit Riverfront Conservancy, our programming was free of charge to the students and their parents. 
Although ISEA does not sail to the Chicagoland area, we have a partner in this region that shares our love of connecting people with Lake Michigan. The mission of the Chicago Yacht Club Foundation perfectly mirrors our mission as Vice President Cyd Archer explains, "The Chicago Yacht Club strives to broaden horizons for Chicago-area youth through nautical training and boating activities. We support organizations that help introduce young adults to nautical, educational, on-the-the water activities, and potential career opportunities they might never have considered. We are dedicated to fostering development and learning through the appreciation of Lake Michigan and Chicago's maritime traditions." 
Cyd beautifully describes the impact that this partnership has had on Chicago youth over the years, "We have worked with Inland Seas since 2015 and they have been a terrific organization to partner with. We send 10 young women, most who have never been on a boat before, exposed to the lake, or out of their neighborhoods, for the adventure of a lifetime. They come back changed young women who have learned the importance of working together and helping others. They also develop an appreciation for the Lake and how important the environment is to us all." She continues, "They learn how to sail the ship, how to navigate, receive STEM training and exposure to marine specimens, and visit several uninhabited islands. ISEA teaches these young women leadership skills that will carry them on through life." Every year, our educators look forward to this program with the Chicago young women as it is both a teaching and learning experience for them as well. 
Our relationships across the basin are more than just working with individuals and organizations to plan and execute programming. Over the years, ISEA has fostered connections with and between professors and other educators. Through our university partners, we engage in discussion with those performing current and focused research on topics, such as microplastics, that we teach on board our schooner. Over the organization's 32 year history, ISEA has worked with the University of Michigan, Michigan Technological University, Grand Valley State University, Lake Superior State University, Northwestern Michigan College, Western Michigan University, University of Wisconsin – Milwaukee, and The State University of New York – Fredonia. 
To bring our programming outside of our home port, we rely on relationships with like-minded people and organizations around the Great Lakes who share our mission and see the value in protecting freshwater systems.
Through our Great Lakes Watershed Field Course, ISEA is able to build relationships with K-12 teachers across the Great Lakes region. This professional development opportunity allows teachers to gain an understanding of ecological concepts themselves, while also developing curriculum to engage students with their local watershed issues. Grants allow educators to participate for free and receive lodging and meals, site visits throughout the Grand Traverse region, a Schoolship scholarship, and a mini-grant for implementing a student stewardship action project in their local watershed. With this field course, ISEA is able to not only form relationships with educators but also facilitate the development of connections between educators. This, along with the relationships educators develop with their students, creates a greater force for ecological change.
With a staff of less than ten, Inland Seas may seem like a small, local non-profit, however, our reach is extended and our impact is multiplied by the connections and relationships we have formed all across the Great Lakes region. By partnering with individuals and organizations that share our mission, we can combine resources, strengths, and connections to ignite passion and inspire stewardship throughout the entire region we strive to protect.
---
This blog was written by Christina Javorka, 2021 Marketing and Communications Summer Intern for Inland Seas Education Association. Christina is studying marketing and fashion retail at The Ohio State University. Being from the Chicagoland area, Lake Michigan holds a special place in her heart. Her favorite thing about the Great Lakes is finding the treasures hidden within and telling others about them.