Who doesn't want to spend their summer on a schooner? Of course, Inland Seas offers a multitude of opportunities to sail and experience life on the water, but for our volunteers, their motivation runs much deeper.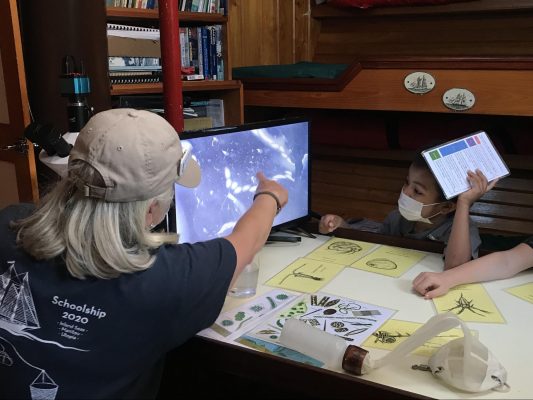 Our volunteers thrive on the "ooohs," "aaaahs," and the exclamations of excitement and understanding they receive from young children, many of whom are learning about the Great Lakes ecosystem for the very first time. Marta Slocum, one of our volunteers who enjoys teaching at the plankton station, remarks, "I love the way kids react when they see the plankton under the microscope. It's like they're watching Star Wars." Getting the same reaction from kids looking at microscopic organisms as you would while watching an action packed sci-fi film… what more can we hope for?  
Each volunteer instructor hopes to make a lasting impact on the children they teach. Bob Walton, a volunteer at ISEA for 18 years, has done just that. "A young woman came as an intern, and when asked why she chose Inland Seas, she said 'I came here as a school kid, and I had benthos with Bob and decided I want this guy's job.' That's what we want, right? For kids to be inspired… I can't tell that story without choking up a bit." (I choked up a bit just hearing that story.) Not only did this young student learn about the Great Lakes, but she discovered her calling and held this love for the lakes in her heart for many, many years until she could finally turn this passion into a career. It only takes one person. One person with a genuine love for teaching about the Great Lakes can inspire lifelong stewardship. That's the "why" for many of our volunteers.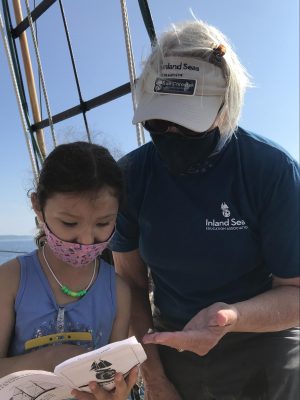 One such person who harbors this passion is Sue Chrostek, a lead instructor at ISEA. She shares, "I retired from education, but I wasn't done teaching yet. I was just done in a classroom." Sue was drawn to volunteering because of her belief in hands-on learning in an outdoor environment. It has allowed her to continue doing what she loves most but also in the place she loves most. A cabin top has replaced Sue's desk and she now hands students fish to hold instead of textbooks. 
For Zach Mathiak, one of our newer and younger volunteers, he has not had extensive experience working with children prior to instructing at ISEA. He has found a new sense of purpose and fulfillment here as he learns the rewards of teaching youth. The first time a student came back to his station and thanked him specifically, Zach was filled with a truly one-of-a-kind feeling of appreciation. Perhaps this is the beginning of a lifelong journey for Zach. 
For one of our crew members, First Mate Rebecca Hancock, her journey began long ago with an internship on the sloop, Clearwater, which sails through the Hudson River. This ship actually inspired Captain Thomas M. Kelly, the founder of Inland Seas Education Association, and gave him ideas for the creation of the institution you know and love today. For Rebecca, working on the schooner Inland Seas has brought her sailing experience full circle.
Beyond love for the water and for teaching, our volunteers enjoy the opportunity to give back to the local community. This was a major motivator for Bob, "My sister always told me how to live my life and one of the things she kept repeating is we have to give back to our community. Now I don't take being told what to do with much enthusiasm, but then I had this moment. I was at the benthos station and saw an arthropod scamper across the tray of water and from that moment I was hooked." As soon as Bob's own passion for the Great Lakes ecosystem was ignited, he was fueled with a desire to share it. He has been able to combine his own learning and discovery with service to the community in honor of his sister. 
A community in and of itself is created on our ships. Many volunteers have found friendship and sense of belonging by joining the Inland Seas family. One crew member, Phil Diller, reflects on his three-month experience at ISEA. "I'm recently retired. I loved being a university professor and I missed that community of colleagues. That's what I've found here." For some, seeing friendly and familiar faces as they board the ship is the highlight of their day.
One thing that's true about all our volunteers is they love the Great Lakes. Sue loves the accessibility of the lakes. Kids swim in it, parents work on it… there's something for everyone. Marta has always loved sailing and reminisces about the little sailboat she had as a child growing up near a small inland lake. For Bob, his favorite thing about the Great Lakes is going out on the water and taking a nap. James Bielak, a crew member, eloquently expresses his adoration for the Great Lakes region, "This is what I worked for. You know you go through two or three careers and you work and you work and hope that someday you're going to get to where you want to spend the rest of your life. Now, I'm finally here." Another thing that's true of our volunteers… they all lovingly call the Great Lakes home.
For Inland Seas, our volunteers are certainly one of our favorite things about the Great Lakes. We are grateful for each and every one of them, and we would not be able to accomplish our mission of educating and inspiring young scientists and stewards without them. 
---
This blog was written by Christina Javorka, 2021 Marketing and Communications Summer Intern for Inland Seas Education Association. Christina is studying marketing and fashion retail at The Ohio State University. Being from the Chicagoland area, Lake Michigan holds a special place in her heart. Her favorite thing about the Great Lakes is finding the treasures hidden within and telling others about them.