"A typical U.S. student spends 8,884 hours over nine years to complete primary and lower secondary education. That's nearly 1,300 hours—more than a full school year—more than the average for other countries." [1]
If students already spend such a great deal of time in a classroom learning, why are they brought off campus to engage with more science-related material? What makes this type of learning different from in-classroom education?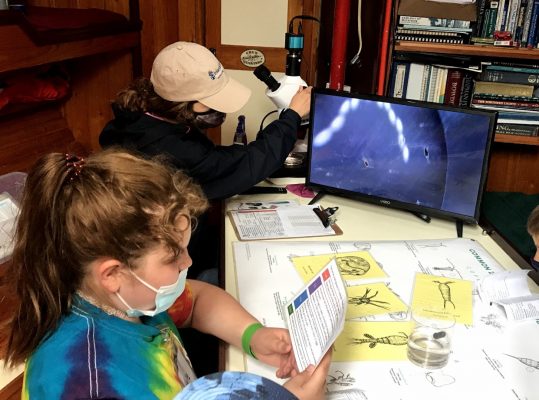 It's not surprising that the hands-on element of Inland Seas' programs play a large role in engaging students. Instead of playing the role of a student at a desk, kids assume the role of a scientist. During my observation of our Schoolship programs, Juliette, one of our volunteer instructors, caught my attention. She excelled at immersing students in their role as a researcher. After collecting a water sample with three different species of plankton in a single drop, Juliette praised students by noting, "It was a great sample. Thank you so much for helping us." This program design allows students to feel as if they are contributing valuable data to Inland Seas to aid us in our Great Lakes work. By creating an atmosphere of "you are helping us" versus "we are instructing you," students feel more inclined to participate and feel rewarded for doing so. Inland Seas records and utilizes each piece of data collected by students so this design is not merely an engagement strategy; we truly do value students' contributions to our work.
This sense of purpose is strengthened as students realize that content learned in school is applicable to the real world and that learning is more than regurgitation of facts. The SEEDS group from Marion Elementary applied for a grant to attend our Ship and Shore program because of this desire to provide hands-on learning experiences for their kids. Erin, one of their group coordinators, described their year-long water stewardship work with irrigation projects for a developing garden, as well as a valiant effort to save a mill pond in their local community. Inland Seas offered the perfect program to end the year as we share their passion for and confidence in experiential programming and water stewardship.
It's a false assumption that students in Michigan have heavily interacted with the Great Lakes.
ISEA's science programming compliments classroom learning and provides experiences that are not available in a traditional classroom setting. "A lot of these kids haven't experienced the Great Lakes or any big lakes really," explains Brian Klauer, the site coordinator for Cherry Street Intermediate's SEEDS group. It's a false assumption that students in Michigan have heavily interacted with the Great Lakes, as many schools are located in a rural or suburban/urban setting. Perhaps students have experienced the lakes recreationally but have never been out on the water and have never been taught about the ecosystems within the lakes. Our learning experiences allow students to experience first-hand the wonders of the Great Lakes by viewing microscopic plankton, holding fish and crayfish, and lowering scientific equipment into the depths of the lake to collect data. These types of experiences are only available to students who venture off their school's campus.
Getting outside also encourages curiosity and enthusiasm. It's touching to witness every single hand shoot up in the air when asked for student participation. Excitement rings from bow to stern as students become honorary sailors and help hoist the sails. As part of our seamanship station, students learn what elements of a ship allow it to float and take turns steering the schooner. I can vividly recall one student's exclamation of, "Oh boy, this is going to be fun!" as he prepared to take orders from the captain.
From a more statistical perspective, Klauer reflects on how he's witnessed students growing and developing as a result of science-based programming. He shares that as part of his role in SEEDS, he tracks and studies students' participation and academics. His research has shown a correlation between involvement in SEEDS programming and academic success, providing hard evidence that students benefit from hands-on learning.
Students have also shown a stronger drive for learning as a result of this type of programming. The idea of learning on a ship excites students before they even attend our program. Patricia Johnson, the assistant site coordinator for Cherry Street Intermediate SEEDS, commented on how their students prepared for their trip to ISEA and shared, "We started with a diagram of the boat itself, and I was shocked how many kids knew the parts of the ship. What the jib is, what the main sail is. They did their homework all right!" It's truly remarkable to hear that students willingly chose to dedicate time to acquiring knowledge.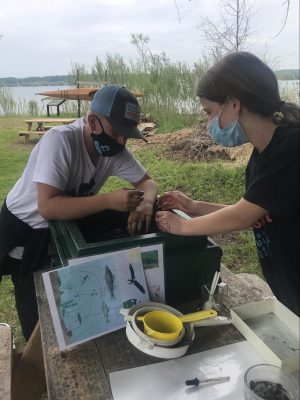 Moreover, science programs teach skills that can't be learned from a textbook. Social and collaborative skills develop as students work together to perform tasks and collect data. Our programs encourage students to share what they learn and observe with each other and that teamwork produces great results. By dividing students into stations, they are challenged to step outside of their established friend groups and bond with peers with whom they might not otherwise interact.
Perhaps the greatest takeaway from ISEA programming is the importance of observation skills. These skills are honed on both the ship and shore portion of our Schoolship program. On shore, students have the opportunity to briefly traverse the wetlands individually, encouraging them to engage multiple senses. On the ship, we provide a minute of silence to allow students to notice small details they wouldn't have noticed during the hustle and bustle of normal life on deck.
These programs shape kids' perspectives and overall approach and outlook on life. As a SEEDS instructor from Marion Elementary astutely observes, "Science programs teach kids to constantly get their gears moving whether that's out on the playground, digging in the dirt at recess, or on a program like this." Through hands-on science programs, students discover how to incorporate learning in their everyday lives. Our hope is that they realize the importance of taking in the world around them and using all their senses to make discoveries. We desire to instill in these young and developing global citizens that the world around them has extreme value and contains elements that they often miss or don't even realize exist. These small discoveries are critical in the assumption of their role as a Great Lakes steward.
References:
[1] Sparks, S. D. (2020, November 20). U.S. Students and Teachers Top Global Peers for Time Spent in School in OECD Study. Education Week. https://www.edweek.org/policy-politics/u-s-students-and-teachers-top-global-peers-for-time-spent-in-school-in-oecd-study/2019/09#:~:text=A%20typical%20U.S.%20student%20spends,other%20countries%20in%20the%20report.
---
This blog was written by Christina Javorka, 2021 Marketing and Communications Summer Intern for Inland Seas Education Association. Christina is studying marketing and fashion retail at The Ohio State University. Being from the Chicagoland area, Lake Michigan holds a special place in her heart. Her favorite thing about the Great Lakes is finding the treasures hidden within and telling others about them.