In the past few years, Inland Seas Education Association (ISEA) has been working diligently to prepare our organization for the next decades of Great Lakes education. With past plans complete and future plans in motion, Inland Seas is able to offer students and the general public far more than just a sailing experience. 
Inland Seas has recently begun a new five-year strategic plan. Designing and implementing year-round programming is a core component of this plan due to our main target audience, kindergarten through twelfth-grade students. In a normal year, we are grateful to welcome around 110 schools to our campus, but an obvious barrier has long prevented us from reaching the number of students we have the potential and ability to reach: the sailing season and the academic calendar do not align. Therefore, our vision is to utilize the Inland Seas campus, all of which has been transformed by recent renovations.
We are very excited about the possibilities that came with the addition of dorm accommodations in 2019. Fred Sitkins, the Executive Director of Inland Seas, speaks to our ability to be "more intentional about reaching underserved students. Dorms can help to make that a reality. Schools that are traveling that distance need to be able to justify that length of a trip with enough programming and experiences. Half a day might not be enough. If we can offer that ship program and an ROV program and a wetland experience along with lodging, then that becomes a package that is appealing to teachers." We aspire to teach the science and stewardship of the Great Lakes to all who desire to learn because water ecology affects an audience far beyond the bay. With the ability to offer overnight accommodations, we can now ease the burden of travel logistics from teachers and administrators, while simultaneously creating a more holistic and extended Great Lakes experience for school groups. They can truly become immersed in the Great Lakes Basin as we also offer free usage of our 30 bikes to dorm residents. Exploration of the region via bike can offer new sites and increase curiosity since the local bike trail runs through wetland ecosystems. 
Another barrier the dorms overcome is intern housing in the Suttons Bay and Traverse City area. Specific rooms were designed for summer marketing and education interns as seasonal accommodations are not cheap or easy to come by. Fred Sitkins comments on the reasoning behind these specific additions, "Our interns really have a wonderful experience and to me, our internship program is our stewardship mission at the highest level, especially for education interns. The housing issue is not new and really is the biggest barrier to us attracting the best talent." Dedicated housing for interns has allowed ISEA's positions to be more appealing and competitive in order to reach the best and brightest applicants who are truly passionate about Great Lakes stewardship.  
If we can offer that ship program and an ROV program and a wetland experience along with lodging, then that becomes a package that is appealing to teachers.
Renovations of our facilities have continued into 2020 and 2021 with the introduction of new signage, displays, and interactive exhibits in the Education Center. This center has always contained information on various aspects of the Great Lakes region and ecosystems, but the renovations have allowed us to bring our exhibits into a closer alignment with our programming on the ship and frame our messaging in a more positive light. The previous signage placed a greater emphasis on species and environmental factors that were plaguing the Great Lakes, and while these are important to understand, we wanted to not only educate, but offer hope. Fred's philosophy is "if you really want people to take action for our lakes, you want them to be hopeful. If everything seems bad or harmful, they feel hopeless. If you feel hopeless, people fall into that trap of 'there's nothing I can do.' We want people to realize that there's something everyone can do." Therefore, we are excited to offer new Great Lakes education tools in our Center to inspire and instill a desire to dive deeper into the subject of water ecology and stewardship. With these renovations coming to a close, we are looking forward to welcoming the public to a grand-reopening later in the summer season. 
Earlier in Inland Seas history, in 2006, the Wetland Demonstration Project was completed and has since offered great opportunities for our programming. Jillian Votava, the Education and STEM Coordinator at Inland Seas, considers the marsh and wetlands area to be ISEA's biggest assets as it provides ample evidence of human impact to water and water's impact on land. Our constructed wetlands also provide a model of bio-engineering as restoring this land to its original ecosystem helps combat ongoing flooding and erosion. As Jillian explains, "In engineering concepts, there's an issue and you have to find a solution. The natural environment has a way to handle flooding and erosion. You need plants and habitats. It's clear this area used to be swampland or marshland so we are using best practices that nature has already established." This project has also provided an easily accessible area from which students can collect samples, which has been utilized extensively as we pivoted our school programming during the Covid-19 pandemic.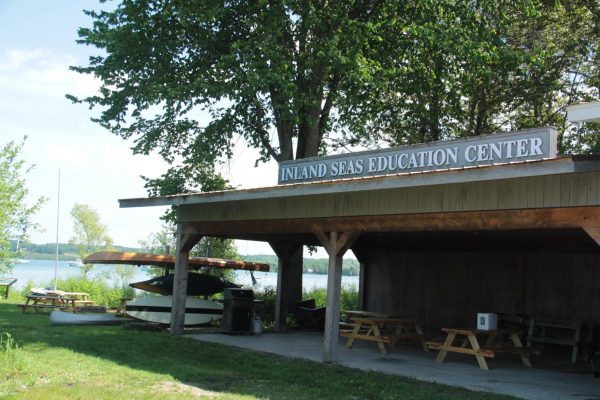 Our outdoor classroom space also aided us in program revisions during the pandemic. A space that was previously underutilized proved to be a well-defined learning space that offers views of the bay and wetlands without distracting focus. Through hosting the shore aspect of our Ship and Shore program in the outdoor classroom, we have learned that this space is big and wide enough to host two stations simultaneously on two completely different topics without noise and activity overlap. As part of our new strategic plan, ISEA plans to renovate this facility to provide a place for outdoor learning year-round. Currently, we are identifying needs and solutions to best utilize this resource. 
Another resource for which Inland Seas has plans is The David Garber Great Lakes Science Lab. Our first priority with updating this space is for direct instruction with our K-12 audience, providing another valuable resource in developing year-round programming. This space also allows us to welcome researchers onto our campus. We are growing our relationships with university partners to offer a platform for field courses and labs that could be conducted with undergraduate students. As Jillian explains, "We are not a research organization, however, we are a platform that disseminates information to researchers that are doing that work. We have accurate and up-to-date information, and we are good at communicating to the general public." We have had such researchers present at our winter cafe series which caters to an adult audience. Currently, a team of four graduate students from the University of Michigan's School for Environment and Sustainability have begun analyzing our data collection and recording procedures in order to make suggestions on how to best utilize these valuable records, as well as streamline the process. These findings will benefit not only researchers seeking to study our data, but also the participants of our programs as we use this data to make charts and graphs of patterns in the Great Lakes region which are helpful visuals during programming.
Lastly, keeping longevity and environmental standards in mind, we have installed solar panels on our campus and are excited to now be generating electricity for all our needs. These solar panels exceeded our expectations and actually generated more than 100% of our electricity in 2021. Who knows, maybe this will be another area where we can develop year-round programming.
If you really want people to take action for our lakes, you want them to be hopeful. If everything seems bad or harmful, they feel hopeless. If you feel hopeless, people fall into that trap of 'there's nothing I can do.' We want people to realize that there's something everyone can do.
Our past strategic plan focused on organizational sustainability. As we build on that foundation in our new strategic plan, we are already working diligently to make our programming accessible to a wider audience. By using all of our water and land assets, we are striving to provide quality, relevant, year-round programming for many more decades of Great Lakes education. 
---
This blog was written by Christina Javorka, 2021 Marketing and Communications Summer Intern for Inland Seas Education Association. Christina is studying marketing and fashion retail at The Ohio State University. Being from the Chicagoland area, Lake Michigan holds a special place in her heart. Her favorite thing about the Great Lakes is finding the treasures hidden within and telling others about them.