With summer in full swing, Inland Seas has been switching gears from Schoolship programs to public sails. While these programs have a similar focus of hands-on education and encouraging stewardship, the special part of public sails is the diversity of age and backgrounds of participants. We love providing a unique and memorable experience for large family groups consisting of aunts, uncles, cousins, grandparents, and siblings.  
Almost every day we welcome aboard curious minds eager to sail and learn about Great Lakes ecology. Passengers come from all over the country to vacation in Northern Michigan, and for many, this is their family's first time sailing. Parents and grandparents come alongside their children to help raise the sails and steer the schooner which is guaranteed to be a great story to bring back home. One family brought their five- and eight-year-old daughters on our Fishes of Lake Michigan program and remarked, "The kids are having fun, and I think we're having even more fun watching them." It's a special moment for parents to see their children engaging in something new and getting excited about learning and asking questions.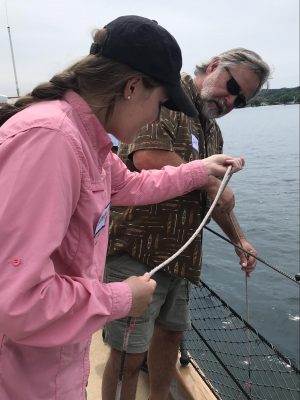 You might think, then, that it is only the young children doing the learning. Wrong! Parents continually make remarks that they love the educational component because it works across the board for all ages. One of our instructors, Jillian Votava, loves to play the game called Stump the Crew, and the adults are heavily involved in inquiring about the science behind our programs and the history behind our ship and crew. A family composed of three generations of learners including grandparents, sisters, and teenage and adult children commented on their reasoning for coming aboard, "We wanted to go out on the water but didn't want to just rent a boat. I love the educational part. You get to sail and learn something." Even without young children, this family shared a new experience and found a fun way to learn while on vacation.
Jessie, a University of Michigan student studying environmental science, brought her dad on board for Father's Day. Her dad has been on the crew for the Maritime Heritage Alliance on two different ships. Even for a seasoned sailor and a university student, there are new things to learn and discover on our programs. Both showed great enthusiasm as they worked together to collect samples, lower the secchi disk, and hoist the sails.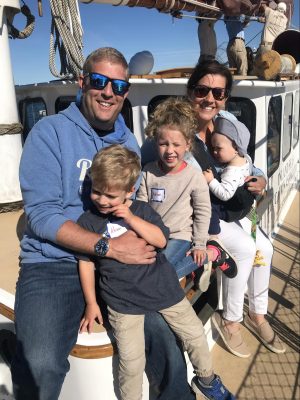 It's especially exciting when parents come aboard who were once students on our Schoolship program. Tara, one such mom, attended an ISEA program as a kid and, now as a parent, was able to share that experience with her five-, seven-, and nine-year-old children. Another mom explained that she grew up on the East Coast and was able to attend educational sailing programs where they performed similar activities such as trawling for fish. She loved those programs as a kid and was able to enjoy a similar experience with her husband and three children, one of whom was only eight months old! Stories such as these are a true embodiment of our mission. We love to see parents passing on a passion for learning on the water to a new generation of Great Lakes stewards. 
We love creating a special experience for adults and children to enjoy together, but we are equally excited to welcome couples aboard our schooner. In addition to participating in program activities, adults enjoy talking with our captain and crew members who have extensive knowledge and interesting stories to share. For John, a guest on one of our Father's Day sails, sailing with Inland Seas was an opportunity for him to indulge in a newfound passion. His wife picked out the perfect gift for John as he explained, "I've been reading the Patrick O'Brian books about sailing in the old times all in old English, and I'm loving them, and I thought 'I just have to get out on a sailboat'." John was by far the most enthusiastic passenger on our afternoon sail as he eagerly volunteered to raise all four sails and found every opportunity to talk to crew members. As we docked, his gratitude for his gift was expressed, "Man this has been a fun, fun day. What a great Father's Day gift for me!" 
We love to see parents passing on a passion for learning on the water to a new generation of Great Lakes stewards.
On our first Father's Day sail, we had the opportunity for a double celebration as we welcomed aboard Dick and Cindia for their 57th wedding anniversary. Even though they had sailed with us the night before, we are so grateful that they chose to come aboard again to celebrate this special day with us. They moved to the area around 2002, and Dick shared, "We come out every year for different programs. We like the night sail, been on a lot of those. Just love sailing on this ship and love this organization." With a variety of programs and on-site sample collections, there's always something new and exciting to be found and shared. Plus, sailing on the beautiful bay can never get old.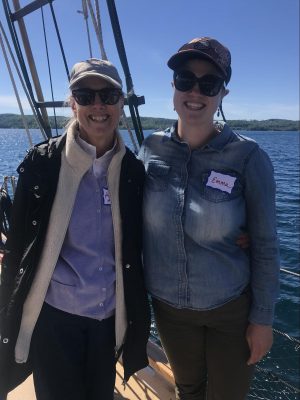 For another couple from Illinois, this was their first time sailing on the bay. As part of their vacation, they came to look at our education center and campus but after hearing about our programs, signed up for a Great Lakes Discovery sail a half hour before departure. Even as professionals in the science field, they enjoyed their experience and learned something new in the process! Our programs are truly a unique experience for families of all ages, sizes, and backgrounds. The Great Lakes have something to teach everyone.
Of course, we couldn't talk about families on board our schooner without talking about the Kelly family. For anyone not familiar with the name, Tom Kelly was the visionary and founder of Inland Seas. His wife, daughter, and nephew's family joined us for the first day of public sails and shared their continued enthusiasm with passengers. Emma, Tom's daughter, traveled from its construction site in Florida to its current home in Lake Michigan at only 18 months old! She remembers growing up sailing with her dad, the captain, and running down to the galley after school for some M&Ms.  Emma completed her undergraduate education at the University of Michigan and obtained her Masters of Environmental Education in Idaho, all of which was inspired by her dad and his work. The schooner Inland Seas has been a special place for families to gather from the moment of its conception. Tom's legacy lives on as guests of all ages make memories together and discover the wonders of the Great Lakes.
---
This blog was written by Christina Javorka, 2021 Marketing and Communications Summer Intern for Inland Seas Education Association. Christina is studying marketing and fashion retail at The Ohio State University. Being from the Chicagoland area, Lake Michigan holds a special place in her heart. Her favorite thing about the Great Lakes is finding the treasures hidden within and telling others about them.