My name is Christina Javorka, and I am grateful for the opportunity to serve as the Marketing and Communications Intern for the 2021 summer season. I am currently an undergraduate marketing and fashion retail student at The Ohio State University in Columbus. Upon accepting this position, I was often asked why I chose an out of state internship in an industry that was seemingly unrelated to my fashion-based career aspirations. The answer is simple. The Earth. My love for nature and the desire to make a positive environmental impact is what drove me 440 miles from the booming city of Columbus and prevented me from returning home to Chicago, both locations that offer a multitude of more "traditional" business internships. I desired to work for an organization that has a clear mission to support and educate about the environment. I have been involved in environmentally focused work throughout high school and college, and as a business major, finding a company with a genuine interest in sustainability can be challenging. "Greenwashing" has become overly apparent in marketing campaigns as environmental issues continue to be in the media spotlight. Furthermore, I aspire to work in sustainable fashion and in order to combat environmental issues, one has to first be educated. Where better to learn about the issues that face aquatic ecosystems than on the shore of stunning Lake Michigan?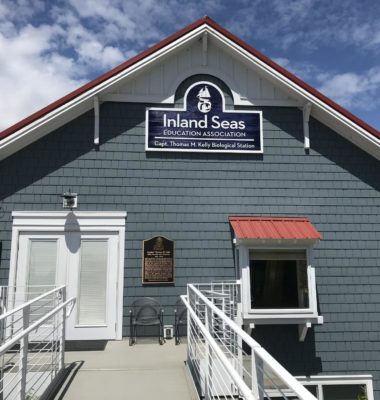 The Suttons Bay area was completely foreign to me so this move required many steps outside of my comfort zone. However, due to the joy and warmth that surges from each office at Inland Seas, I have never felt more comfortable. From the moment I stepped foot on Inland Seas' campus, the passion and dedication of each employee and volunteer was palpable. I was warmly welcomed by each person I encountered and was surprised that everyone already knew my name and my role at the organization before I had even arrived. The familial environment in the office makes each work day enjoyable and exciting.
On my second day at Inland Seas, Troy DeShano, the Funds Development Coordinator, came by my office to introduce himself and check in on my experiences thus far. When I responded that I was loving it here and felt very welcomed, it was apparent that he shared my genuine respect for the staff as he observed, "It is truly delightful to work with such smart, caring and kind people here. Each person does their job so well, and the level of trust we have for one another makes our collective work so much better. I feel so encouraged and supported by the other folks here, and I really get inspired by the dedication of all our volunteers too. So many amazing people, and I feel so lucky to be among them!"
I soon learned that this pride for Inland Seas' work is shared by the local community as well. One of my first tasks was distributing company brochures to local businesses. Initially, I was wary of this assignment as I did not want to inconvenience business owners or employees and was unsure how to approach them. This fear quickly melted away as I was awed at the warm reception I received from every business in town. As soon as I mentioned my association with Inland Seas, I saw people's faces light up with excitement and recognition. One owner responded to my inquiry with, "I have every year and don't see why this year would be any different. I'd be happy to hand them out." After completing this task, it became apparent that Inland Seas is a staple in the community. Locals love and support their initiatives and programs and seem to enjoy their role in its promotion.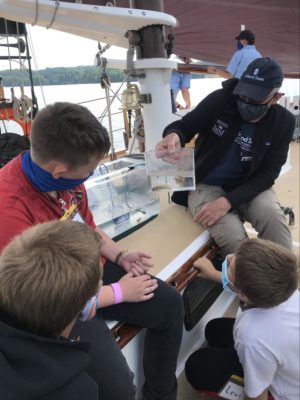 In addition, during this first week, I have already learned a great deal more about the mission and programming of Inland Seas which has given a great sense of purpose to my role. I have had the opportunity to observe the ship and shore programs with schools (come back next week to read more in depth on the impact of these programs on students!) and was surprised to learn that a majority of the instructors are volunteers. Their excitement and passion for the Great Lakes emulates that of the staff, and they were also eager to introduce themselves and inquire about my initial experiences at Inland Seas. This observation solidified my initial impression that love for Inland Seas runs deep. Another observation from these programs is that Inland Seas values hands-on learning. Instructors do not wish to lecture students or merely explain topics but instead allow students to observe and explore for themselves.
I, personally, also value hands-on learning so I appreciate the multitude of ways in which I will be able to put my marketing and communications skills into practice during this internship experience. Coming into this summer, I wanted to explore social media from a business/organization perspective. This desire will be beyond satisfied as I have the opportunity to run Inland Seas' Instagram for the summer. In addition to posts about programming and campus, I will author three new weekly series! These include Meet the Staff Mondays, Fun Fact Fridays, and What Do You Know Wednesdays (check these out at @inland_seas_education_assoc). Increasing follower engagement through the utilization of various story functions is a high priority of mine. Additionally, I had the goal of putting my writing and storytelling skills into practice so this blog series is the project about which I am most excited! Lastly, I grew up around Lake Michigan, but I wanted to engage more with the other lakes and surrounding regions which I will have the opportunity to complete as I embark upon overnight sails to ports all across Michigan. Overall, I wanted to step outside of my comfort zone and be presented with new tasks that will challenge my abilities and perspectives. I feel that each day with Inland Seas will present a new and exciting opportunity to do just that!
---
This blog was written by Christina Javorka, 2021 Marketing and Communications Summer Intern for Inland Seas Education Association. Christina is studying marketing and fashion retail at The Ohio State University. Being from the Chicagoland area, Lake Michigan holds a special place in her heart. Her favorite thing about the Great Lakes is finding the treasures hidden within and telling others about them.