The schooner Utopia will be open to the public on Friday, June 23 from 5:30-7:30 pm at its home port, Discovery Pier, 13271 S W Bay Shore Dr, Traverse City. Guests can board the ship, walk the deck, and go below to learn more about her and her unique history. An underwater remotely operated vehicle (ROV) demonstration will be given and TC Celtic will provide music entertainment during the event. Raffle tickets for a paddleboard will also be available at the event. Admission is free.
The schooner Utopia was designed by the late Fred J. Peterson and built in 1946 by Peterson Builders, Inc. of Sturgeon Bay, Wisconsin. She is a 77′ staysail schooner with a steel bottom and wood topsides. With seven bunks and ample freezer and storage capacity, Utopia logged more than 60,000 miles before 1983.  Two world cruises and several Chicago-Mackinac races were enjoyed by Fred and various crew members. In recent decades, Utopia, owned and skippered by Ellsworth Peterson, has been a goodwill ambassador in Door County, WI and elsewhere hosting numerous non-profit events and receptions.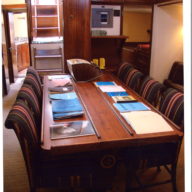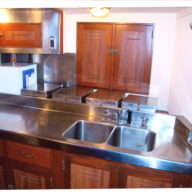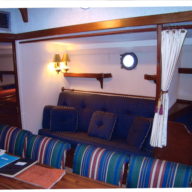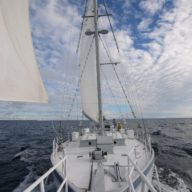 Utopia was donated to Inland Seas Education Association (ISEA) in 2016 by Ellsworth and Carla Peterson, son and daughter-in-law of Fred Peterson. Ellsworth, retired chairman of Peterson Builders, said, "Inland Seas Education Association is the ideal new home for the Utopia. After our research, we determine that space, economics and programming precluded our leaving her in Sturgeon Bay." Peterson's friend and crew mate, Jerry Waite, introduced him to ISEA where he learned of their environmental and student education programs allowing the ship to continue the maritime legacy that began in 1946.
ISEA currently offers underwater ROV programming to schools, groups, and the public, and is pursuing a license to carry passengers on the ship for future sailing programs.
Join us on June 23rd to experience this unique historic vessel.
Let us know you're attending! Go to our Facebook page.