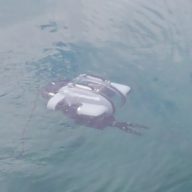 Want to see what's below the water without getting in the water? We will be bringing our Below the Bay public program to the Bay Harbor Lake Marina on August 4 and 5. Individuals or groups can fly (i.e., drive) an underwater remotely operated vehicle (ROV) from the deck of the schooner Utopia to explore the underwater world.
Individuals who fly the professional ROV to investigate the marina structure and look for Great Lakes creatures also get a glimpse into the technology influencing research, monitoring, and exploration of the Great Lakes and the fields of science, technology, engineering, and math (STEM). Students love the ROV Challenge program we offer to schools. This program gives the public a sample of what the students are experiencing.
The ROV program will be available August 4 from 12 – 7 pm and August 5 from 10 am – 5 pm at the Bay Harbor Lake Marina, 832 Front St, Petoskey, MI 49770. Individuals can test drive the ROV on a first-come, first-served basis during these times. There is no cost to participate, but donations to ISEA are appreciated.