Students use STEM skills to build standup paddleboards
Inland Seas Education Association and Baker College are sponsoring an 11-week composite paddleboard building class for 10 high school students. The class will take place from 4-8 pm in the Inland Seas Education Association boat shop at 100 Dame Street, Suttons Bay, MI beginning Tuesday, August 9th. The course is free, but registration is required (fill out inquiry form).
"We are excited to partner with Baker College on this project." said Fred Sitkins, Executive Director of Inland Seas. "We have historically made Opti Prams and canoes with students in our boat shop and have recently added paddleboards." Students will learn how to use carbon fiber, fiberglass, and epoxy to make professional quality high-end paddleboards. "On day one students begin using tools and materials. It really is a hands-on learning environment and students will be building an incredible board."
From August 9-October 18, students in groups of two will hand-build a full-sized composite standup paddleboard. Through the process, students will be introduced to several technical and engineering-related career skills such as light-weight composite materials, marine technology, and the manufacturing process.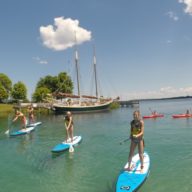 Students are responsible for their transportation to the class, but all other costs are covered. "These composite paddleboards are a fun and educational project for kids to learn about manufacturing and engineering." Sitkins said. "At Inland Seas, we believe to become stewards of our Great Lakes, we first have to love them. We hope this program not only provides the students with some introductory job skills, but also gets them out on the water."
More information on this free class can be obtained by completing the inquiry form on the ISEA website.