Nautical Flea Market and Boat Sales
Saturday, July 15   9:00 am-1:00 pm
Saturday, August 12  9:00 am-1:00 pm
100 Dame Street, Suttons Bay (in parking lot and barn behind Inland Seas Education Center Building)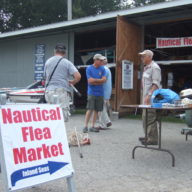 Inland Seas Education Association is holding two Nautical Flea Markets and Boat Sales this summer. If you are getting into boating, need to replace an item, or just love to be around boat "stuff," come to our flea market. Items for sale include many power tools, hand tools, jigs, and other shop equipment donated from an estate. Some of these tools are collector's items. We also have a large mooring buoy, portable 14 gallon fuel cart, completed sailboat models, anchors, boat hardware, life jackets, windsurfing gear, old outboard engines, maps/charts, books, a propane gas grill, and much MORE! View our current list of boats for sale.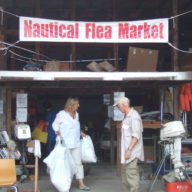 We are always seeking items for our nautical flea market. Clean out your garage, shed, or barn and donate your items to ISEA by calling 231.271.3077 or stopping by 100 Dame Street, Suttons Bay. Any boating related or woodworking items are accepted. If you bought it for your boat, someone else will too! Donations are tax deductible.
In addition to the flea market items for sale, some of our donated boats will be on display. Come see what we have for sale. Buy one and outfit it with items from the flea market!
Proceeds from this annual fundraiser support Inland Seas Education Association.